March 1, 2022
Local non-profit takes on worldwide challenge … and succeeds
By Louise Ronald
Big things can happen in small places.
Wayne County, Indiana, is now home to one of the most unique structures in the world – a Living Building, fully certified by the International Living Future Institute.
There are only thirty buildings like it.
Anywhere.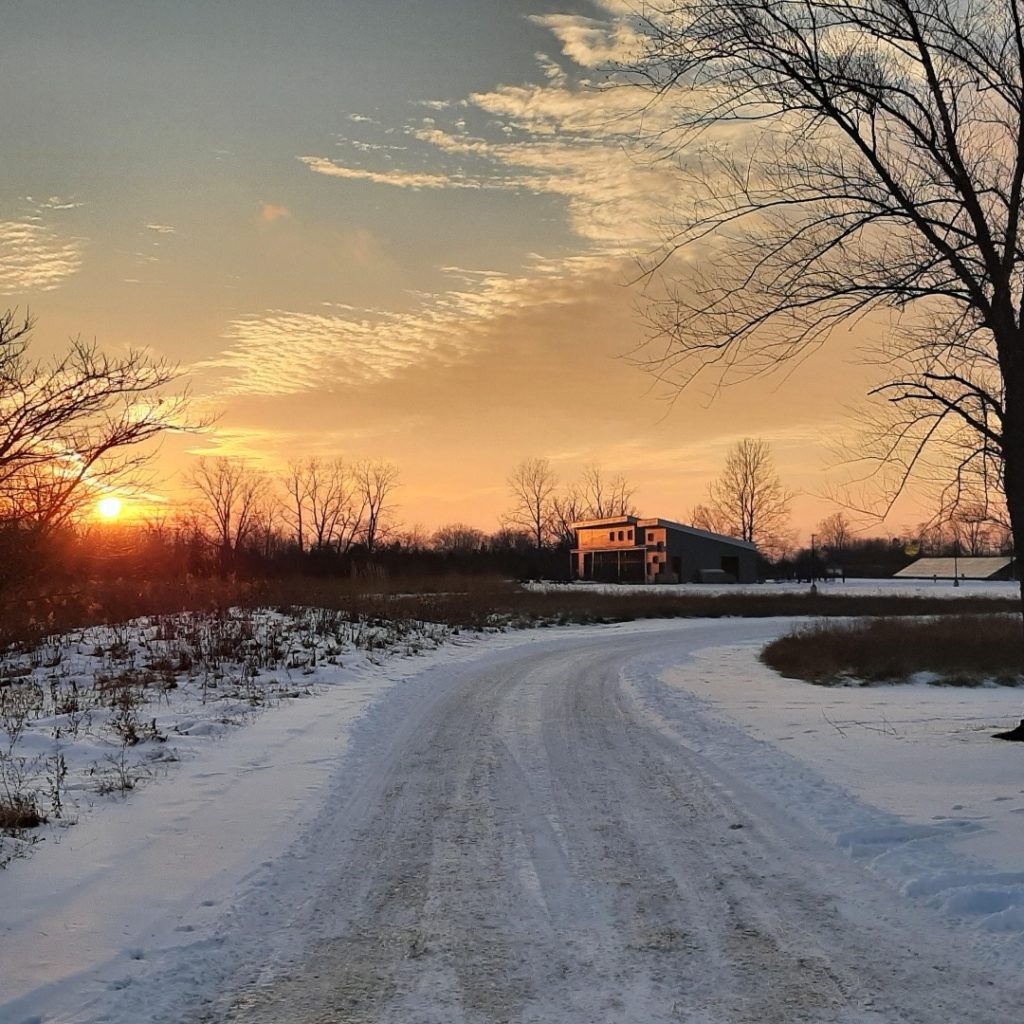 Wayne County's Living Building houses classrooms, meeting space, and offices for the Cope Environmental Center (CEC) located between Richmond and Centerville. It's a modest facility, barely visible from the road. It takes up a tiny fraction of CEC's 130 acres of woodlands, wetlands, and prairie.
Nevertheless, it's big.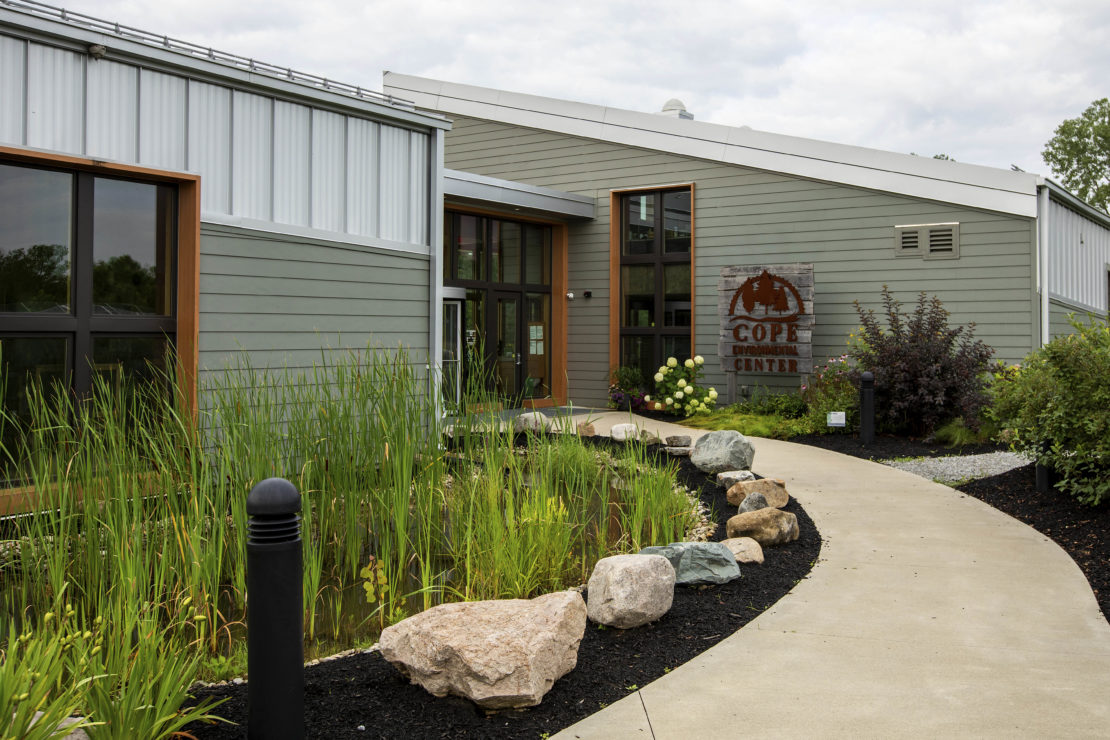 "It was a massive undertaking for an organization of our size," said Alan Spears, who served as CEC board chair through construction of the Education Center. "We came together and built a true landmark."
"It's a gem in our community," agreed Wayne County Foundation Executive Director Rebecca Gilliam. "Another amenity that makes Wayne County awesome."
Wendy Boyle, president of Indianapolis-based Boyle & Associates, assisted CEC with planning and implementing its capital campaign for the building project. Early feasibility studies were not encouraging. Community leaders expressed support for the idea but were not confident the young organization could raise the funds needed for such an ambitious goal. Both campaign leaders and Boyle persisted, however, and in the end, more than $2 million was raised.
"I didn't imagine that it would turn out to be so terrific," Boyle said as she looked around the Living Building at a recent celebration of Cope's full certification.
She wasn't alone in her delight and surprise.
CEC was founded in 1992, when Frances Parks and his friends Jim and Helen Cope, conservationists all, established a private foundation to support a center on the former Cope farm. The Copes were both science teachers, Jim at Earlham College in Richmond, and Helen at Centerville High School. They were devoted to the natural world, planting innumerable trees and maintaining a simple, sustainable life on the land. The enterprise grew in 1997 with the gift of more acres from the estate of friend and neighbor Gertrude "Lucky" Ward.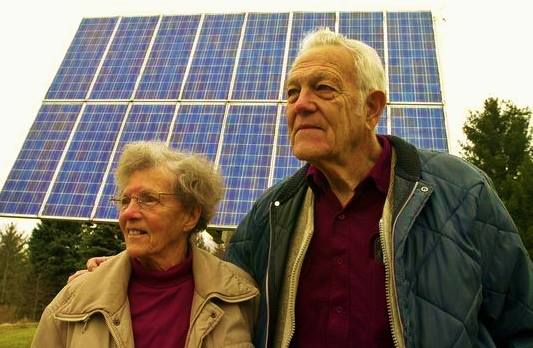 From the beginning, CEC was home to hiking trails and educational programs for all ages, focused on sustainability of the native habitat and instilling a love of nature.
By 2000, it was clear that the existing classroom wasn't safe or adequate for the number of students CEC was attracting. A new building was needed.
"In order to keep it all going, we had to have a center," said Susie Ferrell, lifetime member of the CEC board.
Architect Kevin McCurdy, another longtime friend and student of the Copes, ran across the Living Building Challenge as he researched possibilities for the new building.
Certification Project Manager Allie Bull of the International Living Future Institute, describes the challenge as "the world's most ambitious, advanced, and holistic performance standard for green, resilient, and healthy buildings."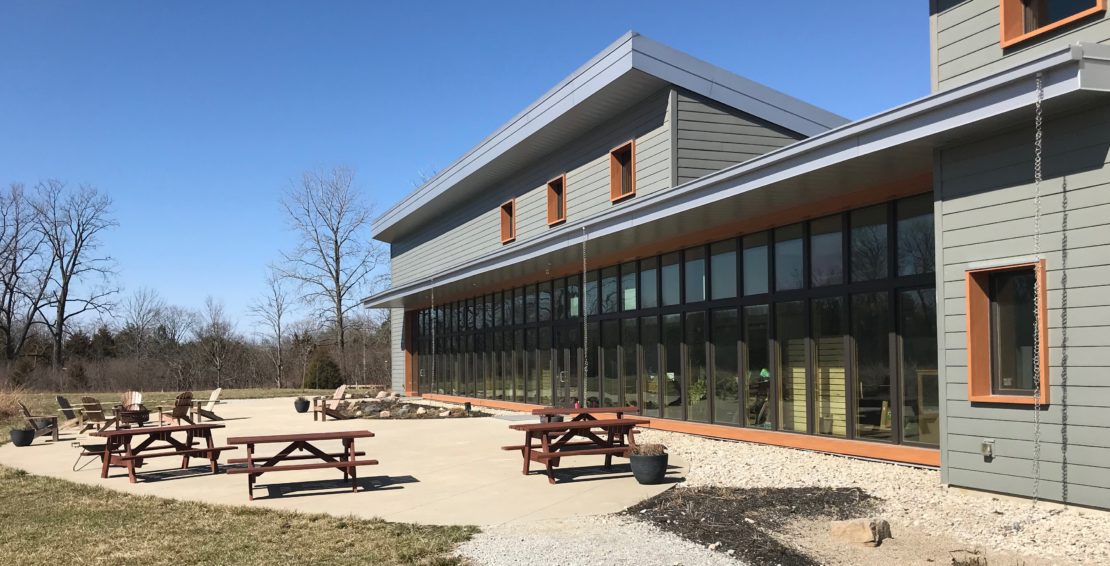 The CEC board saw it as the perfect fit for the Copes' vision.
"My mother was always reading about how to live green," said Marie Cope Nicholson, one of the family's representatives on the board. Her father, she said, was more about conservation and wildlife habitats. But she has no doubts that he would have supported the challenge.
"My father was always the big idea man," she said. "He thought the center had the potential to be of national importance."
Ferrell put it like this: The Living Building Challenge represented a way to "fuse the interests of Jim and Helen," she said. "It was a combination."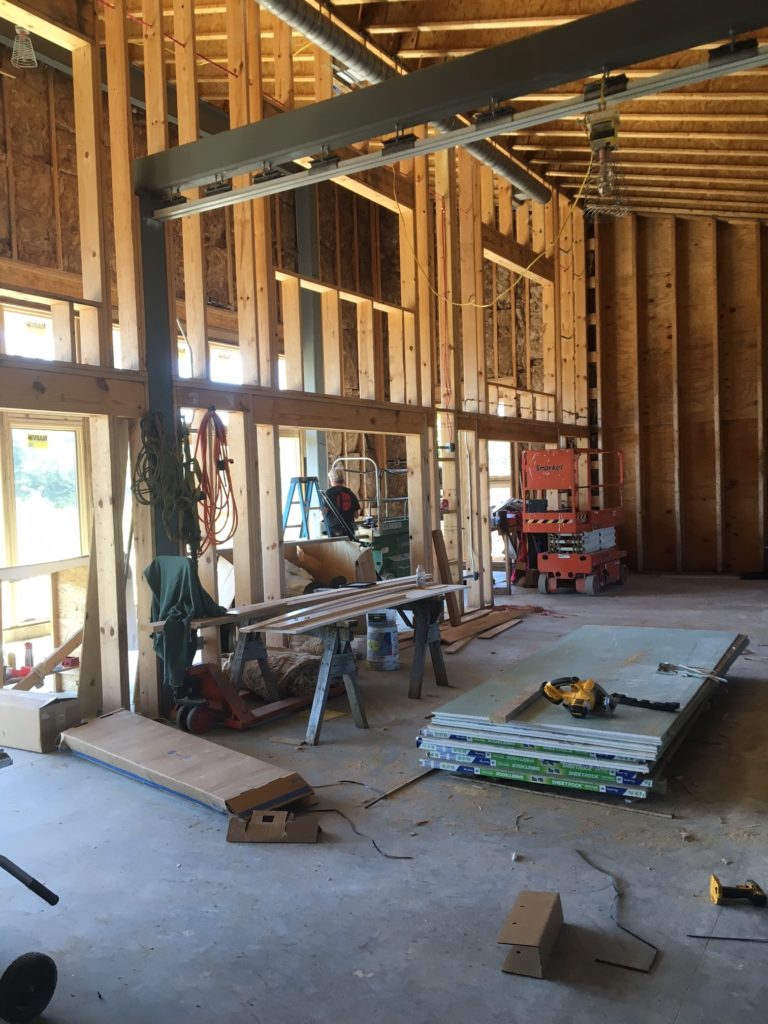 To be fully certified, a building must demonstrate success in seven categories, called "petals" (combined into a full flower in International Living Future Institute graphics): site, health, beauty, equity, net zero water, net zero energy, and use of materials that are local, sustainable, and nontoxic.
The first six petals were relatively easy to fulfill. Five acres were placed under conservation easement to compensate for the land disrupted for construction. Placement of the building's high-efficiency windows took into consideration air flow, sunlight, and views accessible to everyone, whether sitting or standing. The building is filled with green plants and surrounded by landscaping that makes careful use of rainwater. Only natural cleaning products are used for maintenance. Whenever possible, wood and repurposed materials from the property were made part of the décor.
The education center is ADA-compliant and has water-permeable parking surfaces, heavily insulated walls, solar panels, geothermal and radiant floor heating and cooling, natural lighting tubes, and automatically controlled room temperature and lights. Lumber for construction was Forestry Stewardship Council certified and whenever possible local or regional suppliers were used to keep down the carbon cost of transportation of materials.
All this took time, study, and planning.
The requirement for nontoxic materials took a bit more.
"It's very, very taxing," said Alison Zajdel, CEC's Executive Director during the planning and building process and a volunteer during certification. She likened it to trying to develop a healthy diet without nutrition information.
"Building products don't have labels on the sides," she said.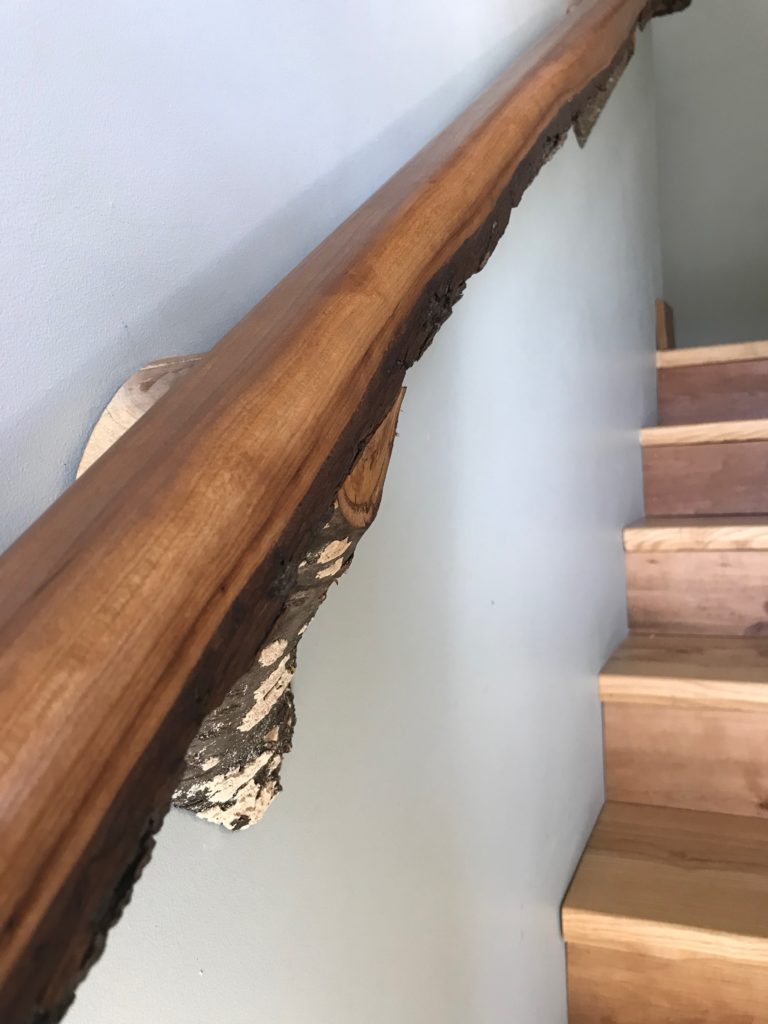 But to meet Living Building standards, CEC needed to know content details of everything down to the paint on the walls. That meant years of painstaking research and lots of conversations with manufacturers and producers.
Kaitlyn Blansett helped, first as a full-time employee, and later as a volunteer. Over time, she noticed a change in how producers responded to her queries. At first, manufacturers were overwhelmed by the detail she needed. By the end, it wasn't unusual to find the detail included with the product without her having to ask for it.
"Now there are a lot of products that have that Declare Label," said McCurdy. He described the years of the CEC project as representing a "seismic shift in the construction industry. … I'm not saying we did it, but we helped."
The Cope project might also have been helpful to the International Living Future Institute.
Most Living Buildings have been developed by large corporations with access to teams of experts. CEC had a few employees, its board, and lots of volunteers.
Zajdel said it was important the challenge be accessible to project on the scale of Cope's. "If our little Cope Center can't do this, then what's the point of the program?"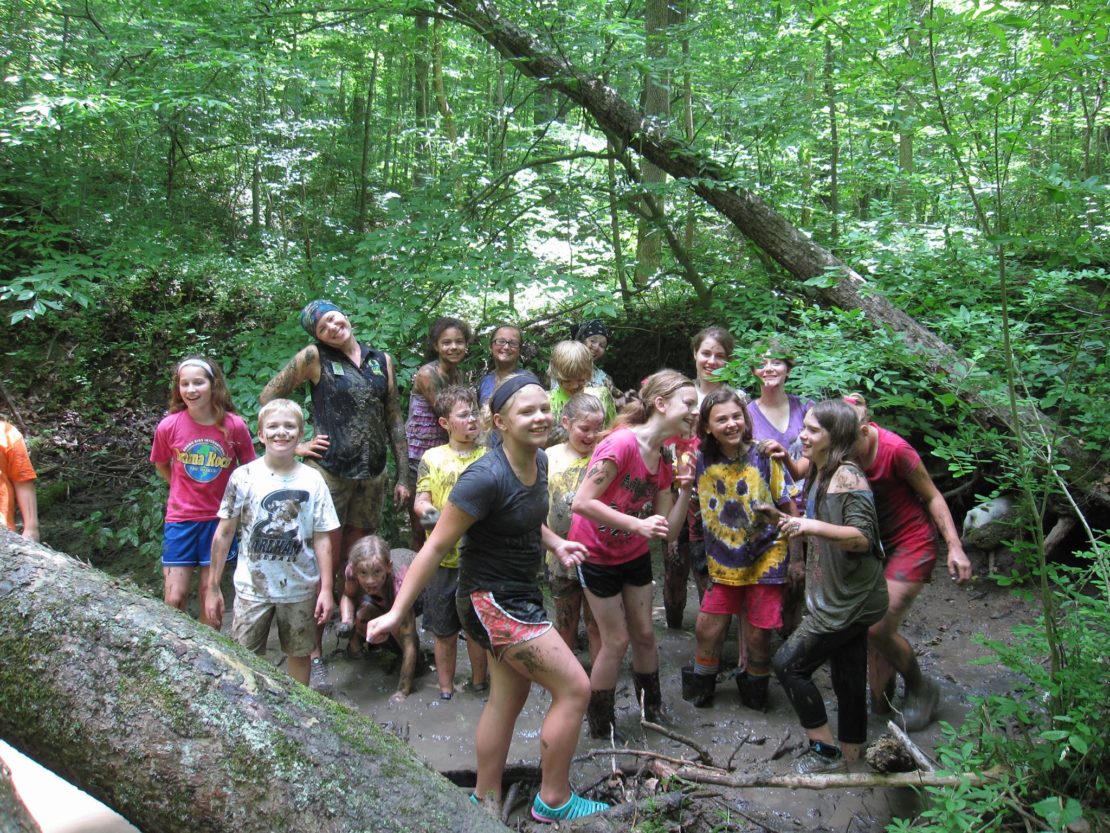 Bull called CEC's full certification the result of "an incredible grassroots effort."
"We did it when everybody told us we couldn't," said Stephanie Hays-Mussoni, Executive Director when discussion of the building project began.
Even more remarkably, CEC kept its educational programs going throughout the process.
"If you have a good group of dedicated people, you can accomplish anything," Spears said.
Professor Robert Koester serves as Director of the Center for Energy Research/Education/Service (CERES) and Chair of the Council on the Environment at Ball State University in nearby Muncie. He and his students helped with the CEC project.
"This was all new territory for everyone," he said. "People were willing to learn, willing to try … not knowing if they would succeed."
But succeed they did.
And now? Record-keeping will continue so that full certification can be maintained. And staff is ready and willing to share what they have learned in the process of creating the Living Building.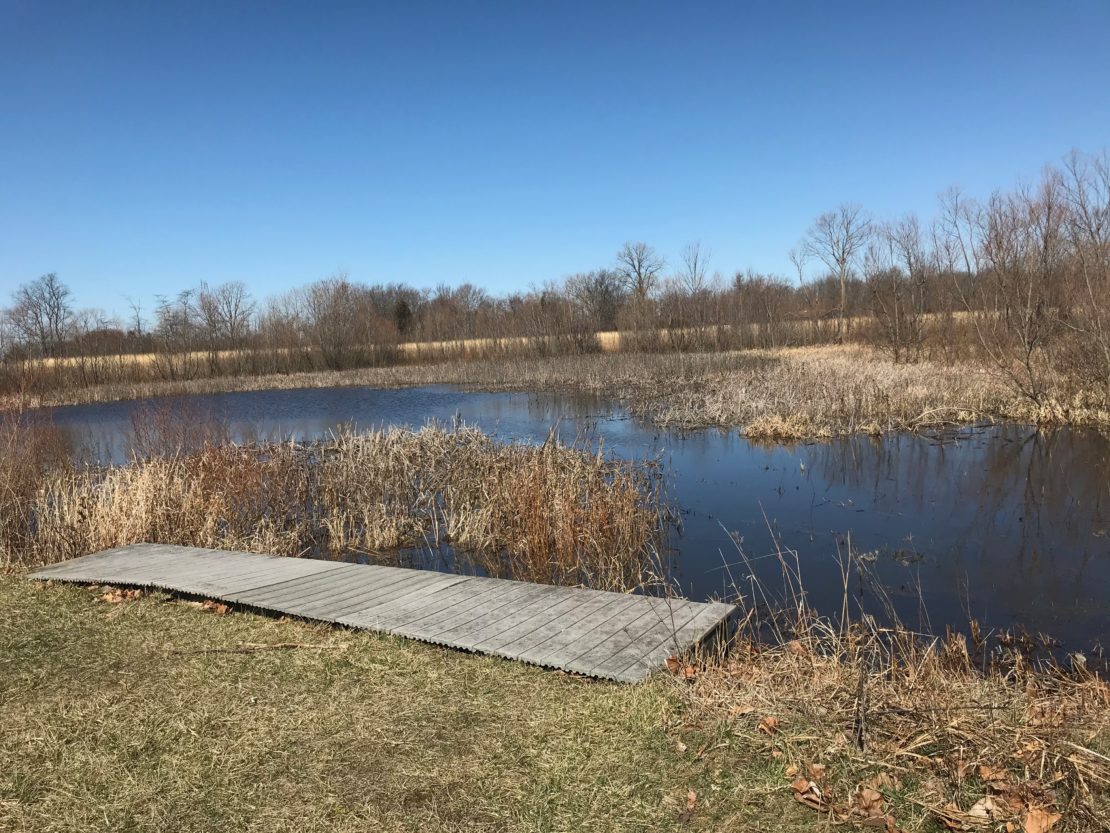 "Come and see," said CEC's Director of Partnerships and Outreach Karin Hostetter. "You're sure to walk away with practical idea for your own lifestyle."
"As word gets out, people across Indiana will try to catch up with the Centerville project," predicts Koester.
Zajdel agrees.
"Indiana does not get a lot of credit for environmentally exciting things," she said, "but it is a forward-thinking state in terms of environment."