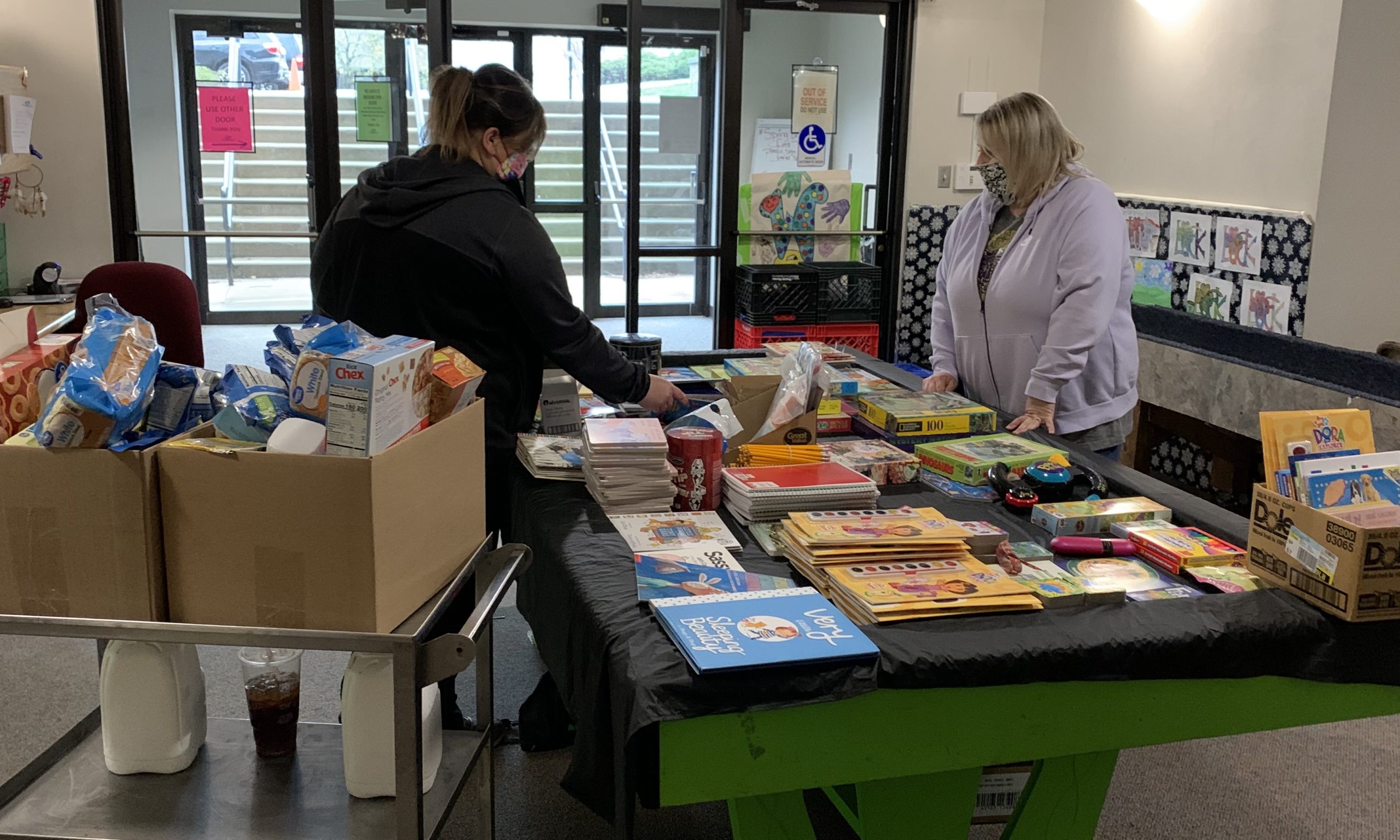 September 1, 2020
"Where is the need? Let's fill it!" CIS Wayne County and communities step forward to fill void created by COVID-19
By Louise Ronald
When the coronavirus closed Indiana schools in March 2020, Melissa Todd didn't know what would happen with her job.
For six years, Todd had been a Communities in Schools Site Coordinator at Northeastern Elementary in Fountain City.
"When I was hired, the job description said I would be a bridge between the community and families to provide specific needs for students," she said. Working from her office in the school, Todd helped arrange for those needs – food supplies, academic support, health care, behavioral interventions, and more – to be met.
Todd is part of the Communities in Schools of Wayne County team that serves all five public school districts in the Indiana county. But how could she do her job now?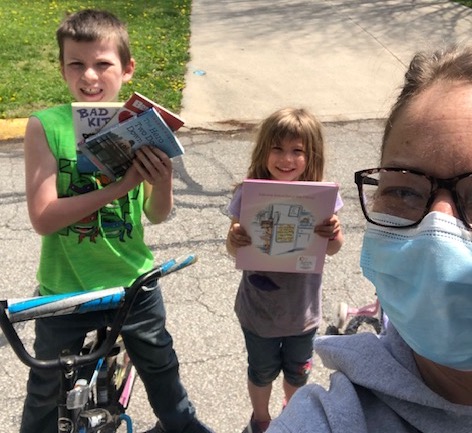 "When the last bell rang on March 13, my heart was heavy and the fears started to set in," she said. "How do I service my students and families in a pandemic?"
Todd wasn't the only one wondering.
Non-profits throughout the county – indeed, throughout the state and the nation – suddenly had to rethink their daily operations.
For non-profits serving populations in need, that reconfiguring was urgent business.
Communities in Schools site coordinators faced a double challenge: not only how to continue services to their students and families, but also where (and how) to continue with their school-based offices closed.
CIS of Wayne County is one of more than 125 Communities in Schools affiliates in 25 states and the District of Columbia. According to the CIS of Wayne County website, site coordinators "… work with school leadership and staff to connect students and families with community resources that help to address both academic and nonacademic needs, allowing students to show up healthy, safe, and prepared to learn."
"These services aren't just a luxury." - Matt Railsback, Communications Coordinator for CIS of Wayne County."
Some CIS services are school-wide while others are tailored to assist specific groups of students. Many of the efforts are directed at individual students deemed to be at risk for a variety of reasons.
"These services aren't just a luxury," said Matt Railsback, Communications Coordinator for CIS of Wayne County. In particular, he said, families are often "critically dependent" on CIS for food resources and other basic needs.
March 13 was a Friday, a day when many schools distribute food to help families get through the weekend.
But what would happen on Monday?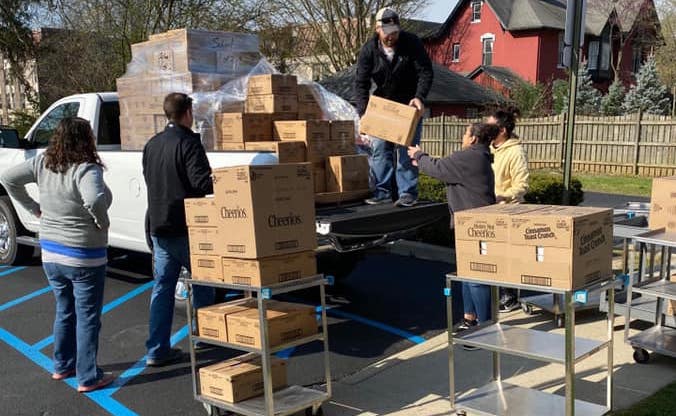 Becky Murray, Executive Director of CIS of Wayne County, said site coordinators took advantage of the advance warning of school closure to make sure they had contact information for all the students in their caseloads. Calls began over the weekend and continued at least weekly throughout the rest of the semester.
While that was only a slight variation on business as usual, other things that happened over that first weekend came as a complete surprise.
Murray credits an Amazon wish list created by Roxie Deer, Director of Professional Development for the Wayne County Area Chamber of Commerce, with getting things started.
"That was the catalyst," Murray said.
As soon as she heard schools were closing, Deer started the list for Starr Elementary in Richmond. She then got in touch with her friend Kathy Khamis, Site Coordinator at Starr, to arrange for the boxes to be delivered there.
Two things quickly became clear.
First, the response was huge. Over that first weekend, more than 90 boxes had arrived from Amazon, enough to help not only Starr, but students from several Richmond schools.
Second, other arrangements had to be made for storage and distribution of the donations. Not only was Starr overflowing with boxes, it wasn't clear how long it would be before the building's doors would have to be locked.
Khamis enlisted the help of Marci Lindahl, Site Coordinator at Test Intermediate School and a friend from church. Lindahl remembers standing in the Starr parking lot with Khamis and the two of them making a spur-of-the-moment decision to call their pastor.
They got immediate approval to take the boxes to their church gym, which became a kind of distribution hub for the remainder of the school year.
The basic structure of that hub was in place by Monday, March 16.
Khamis stresses that what they set up was not a food pantry. No families came directly to the church for supplies. Indeed, the location of supplies remained hush-hush during the weeks the hub was in operation.
Instead, teachers and representatives of community agencies that work with CIS came to the church to collect supplies, which they then delivered to students and families. Whenever CIS or another agency heard about a family in need, arrangements were made to serve them.
"We provided the framework," Khamis said.
"These people are the bomb." - Cindy Cook, Centerstone Family Support Specialist
Here's an example of how it worked. On May 14, a text arrived from a site coordinator about a family with six kids that was struggling to make ends meet. Immediately, one person working at the church began putting together boxes of supplies, while another got on the phone to find someone to deliver them. Within ten minutes, everything had been arranged.
Cindy Cook, a Centerstone Family Support Specialist who was at the church to pick up supplies for some of her clients, observed the whole process.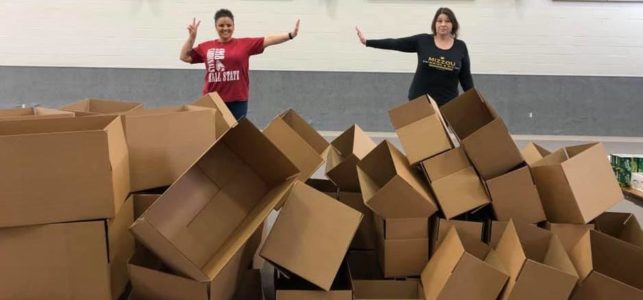 "These people are the bomb," she said.
Donations – not only food, but also books and activities for kids, as well as health and support information for families – continued to pour in from businesses, organizations, and individuals.
The hub was key to distributing these donations.
Khamis said CIS is well positioned to deal with emergencies.
"We know who needs what," she said.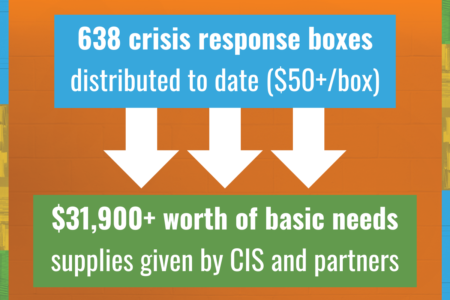 By the nature of their job, site coordinators are used to shifting gears quickly when new needs arise.
"We're not very rigid when we're needed," Lindahl said. "It's always been – 'Where is the need? Let's fill it.'"
That nimbleness served CIS well all over Wayne County.
Like Todd at Northeastern, Misty Whittaker, Site Coordinator at Centerville-Abington Elementary, was shocked when she heard the schools were to close.
"Is this really happening?" she remembers thinking.
But Gleaners Food Pantry was due to bring a food delivery to the school from Indianapolis, so Whittaker had to hustle. She called Shari Markley, Family Ministry Coordinator at Centerville Christian Church.
Since January, Whittaker, Markley, and Rita Stanley of Centerville Church of the Nazarene, had been part of a CIS-initiated committee working on issues faced by students in the small town. They'd formed an organization called Bulldogs Helping Bulldogs, named after the high school mascot. The group had been focusing on delinquent lunch bills and how to find tutoring help – until Whittaker's call on March 13.
"We are going to have kids that are just going to be flat out without food," Markley recalls Whittaker saying. "Do you think you can help?"
"Volunteers came out of the woodwork." - Sheri Markley, Family Ministry Coordinator at Centerville Christian Church
The group – which includes representatives of Centerville's five churches – answered with a resounding "Yes!"
Within days, Bulldogs Helping Bulldogs had set up drive-through food distribution at Centerville Christian, where families could get what they needed while maintaining a safe distance.
"Volunteers came out of the woodwork," Markley said. A call for donations so the organization could buy more food from Gleaners brought in donations ranging in size from $20 to $4,000.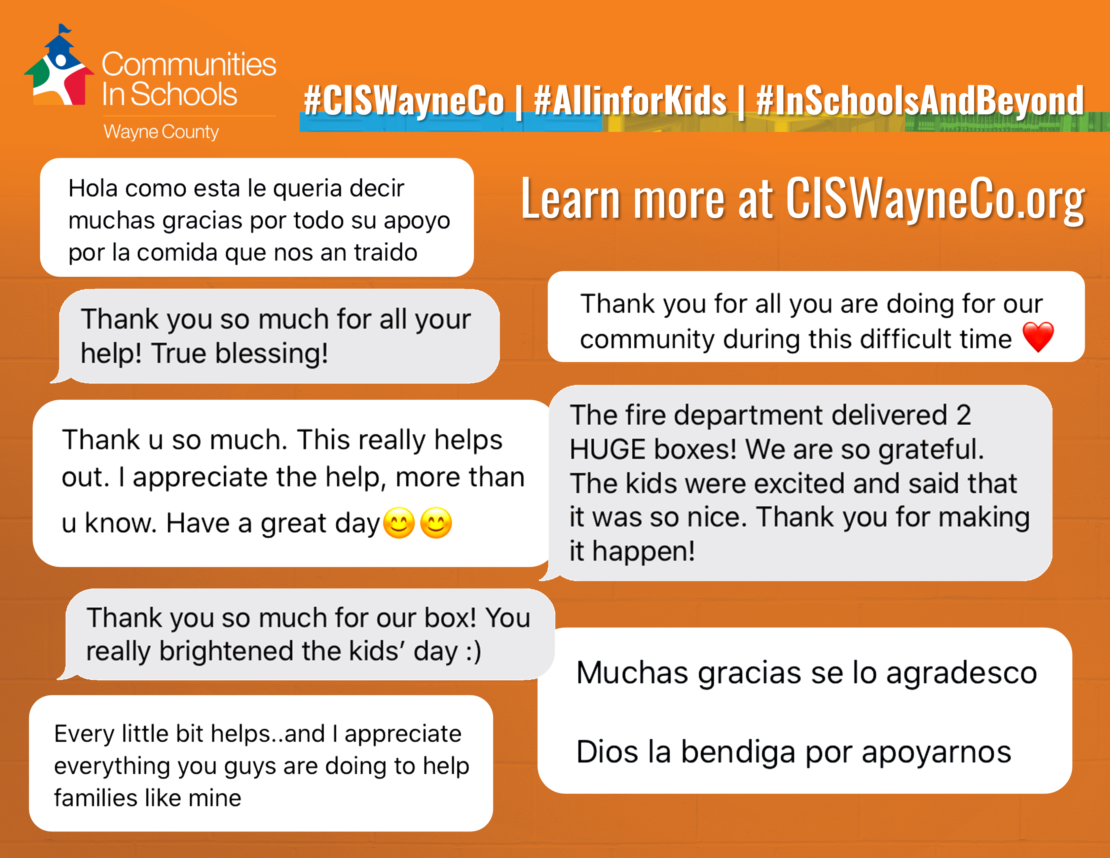 "We've never been without food since we started this," said Whittaker.
Centerville-Abington Schools coordinated their meal distribution with the effort. "I was very impressed," said Mike McCoy, incoming Superintendent for the district, "… to see them go above and beyond what we were even thinking about doing."
At Western Wayne Schools, Nicole Kapp, Site Coordinator for Western Wayne Elementary and Lincoln Middle/High School in Cambridge City, shifted her monthly Gleaners food distribution from inside to outside.
Students and families used to come into the Lincoln cafeteria to get their food, but due to the pandemic, they instead waited in their cars in the school parking lot. Volunteers wearing masks and gloves brought the food to them. Kapp was able to open the service to families beyond the schools to the community at large.
Donna Longnecker, co-owner of Pizza 3.14 (read "pi") just west of town, wasn't familiar with Communities in Schools before the pandemic.
In her search for ways to keep her business afloat, Longnecker had heard about pizza kits to put together at home. Soon after she began making them, a customer with what she calls "a heart for kids" donated funds to buy 40 kits for children in need.
Longnecker contacted a teacher she knows, who put her in touch with Kapp. At that point, Kapp's caseload was 41 students. Longnecker was wondering how she could take care of the 41st kit when another customer came forward to make a donation. That customer apologized for only being able to afford one kit, but Longnecker was filled with relief and gratitude.
"It was meant to be," she said.
Sarah Benson was finishing her first year as Site Coordinator at Hagerstown Elementary, part of Nettle Creek Schools, when the pandemic hit. "I was just getting the hang of it when all this happened," she said.
Local businesses stepped up to help Benson and her colleague at Hagerstown High School continue to serve their students and families.
Shelly Gray is manager of The Logo Shoppe in Hagerstown, which makes signs, t-shirts, and other personalized products. Gray's husband is a teacher, so she was familiar with CIS. She brought it up in conversation with the store's owner, Cindy Oler.
"We were concerned about how (school closure) could affect the families in our community," Gray said.
Their conversation led to offering CIS the store's central location on Main Street as a place to drop off donations, store food, and hold meetings to coordinate the community effort. "She's been there with everything," Benson said of Gray.
"It's kind of hard to find positives in such a bad situation, but I'm proud of our community." - Misty Whittaker, CIS Site Coordinator, Centerville-Abington Elementary
The list of other businesses that helped reads like the Hagerstown Yellow Pages.
"It added up to using all the resources in our small, little community," said Benson.
That sentiment was echoed by CIS employees from all over Wayne County.
"It's kind of hard to find positives in such a bad situation, but I'm proud of our community," Whittaker said. "There are people willing to help and this just proves it."
Todd agreed.
"We have an amazing community that has stepped up and donated food, books, money, and pretty much anything a student or a family has needed," she said.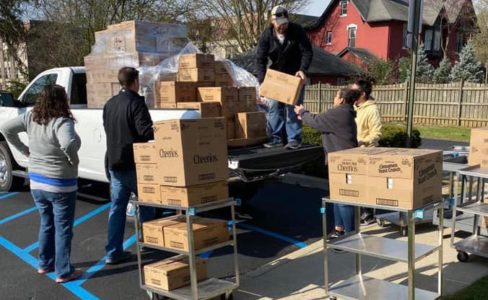 "Hundreds of people stepped forward," said Murray – from the donation of one pizza kit by Longnecker's customer to truckloads from area businesses. Whatever CIS couldn't distribute was shared with food pantries and other agencies serving those in need.
Khamis was awed by the generosity.
"The humbling thing is that they trusted us … to make sure their treasure was distributed fairly and wisely," she said.
Monica Koechlein is president of the Richmond-based Stamm Koechlein Foundation, which helped support the countywide effort.
"We recognized that CIS was in a key position to ensure that students who were at high risk were specifically targeted for basic needs and continued case management," Koechlein said.
"Several of the kids we serve are the kids that fall through the cracks in an emergency like this," said Murray.
"This is an experience I hope to never live again but I have the utmost confidence that Communities in Schools is an asset to every school in Wayne County. " - Melissa Todd, CIS of Wayne County Site Coordinator
No one is sure what the 2020-21 school year is going to look like, but Murray said CIS of Wayne County is ready for the challenge.
"Our business is going to be very different in coming months and we will remain very flexible and responsive to student needs," she said. "With the support of our community, local students will have access to the resources they need to be successful."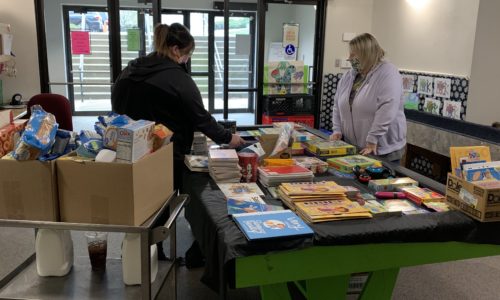 Todd said CIS has grown through the crisis.
"This is an experience I hope to never live again but I have the utmost confidence that Communities in Schools is an asset to every school in Wayne County," she said. "When a lot of resources for our families shut down for a period of time, we remained open and willing to provide essential needs for our students."
As a school superintendent, McCoy voiced his support, calling CIS an amazing program. "The longer they're here, the more we're going to be able to offer our students," he said.
As a nonprofit, CIS is reliant on support from the community. To make a donation, visit CIS Wayne County.