January 22, 2020
Volunteer group keeps small businesses up-to-date on social media trends, skills
By Louise Ronald
In July 2017, five people gathered at the Innovation Center in downtown Richmond to have some breakfast and talk about social media. By the end of 2019, monthly meetings of the same group were routinely drawing 50-70 participants, including marketing professionals, small business owners, representatives of non-profits, bloggers – anyone who deals with or cares about social media.
After a presentation of up-to-date practical information on a topic suggested by the group, ideas are shared, successes celebrated, and failures treated as opportunities to learn. There is laughter, applause, and camaraderie.
The group is Richmond Social Media.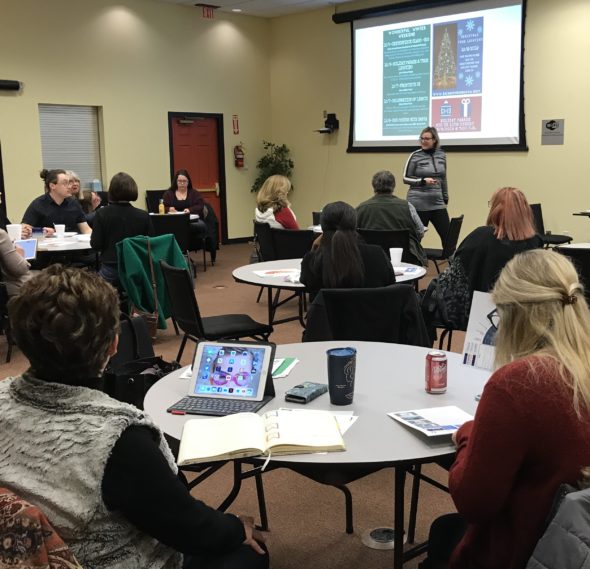 In 2019, RSM explored building a personal brand, improving customer service, dealing with trolls, and other topics that business owners and marketers alike need to understand and adopt.
The final meeting of 2019 looked ahead at four growing trends to watch for:
niche social media channels, such as TikTok
text marketing
sponsored ads sent to inboxes
changing engagement metrics
The event, titled "Picture Yourself in 2020," also included free digital headshots of attendees by a professional photographer.
That's a good snapshot of an RSM meeting – helpful, challenging, active, and fun.
And free.
That's right.
Richmond Social Media meetings are FREE.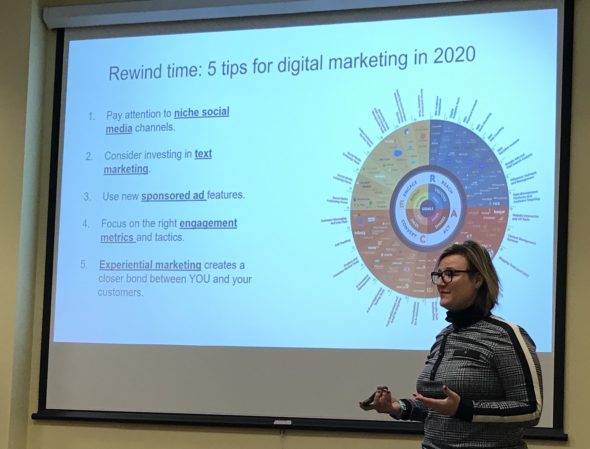 "I am shocked that more people don't take advantage of it," said Ashley Sieb, main facilitator for the group. "There are so many more people who need to be in this room."
RSM began around 2005.
"Originally, it was meant for business owners and marketing directors," said Phil Quinn, owner of OnVine Media.
Quinn recalls two people showing up at the first meeting with electronic devices. The group did grow into a good networking opportunity where ideas were shared, but the format was problematic. Each month focused on a different social media platform. Some participants with experience wanted to learn advanced skills, while others needed to learn the basics from Square One.
"It made presentations difficult," Quinn said.
That early version of RSM eventually fizzled. But the leadership of Center City Development Corporation (CCDC) at the Richmond Innovation Center remained interested.
Then Sieb moved to town. Her husband's family lives in Richmond, but she didn't know many other people here. Her marketing job for a Cleveland company could be done from her home office, but Sieb was determined to get out and meet people. She inquired about co-working space at the Innovation Center and suggested the possibility of paying for the space by providing marketing assistance for the center.
Arrangements were made and, among other things, Sieb was handed RSM. Could it be revived?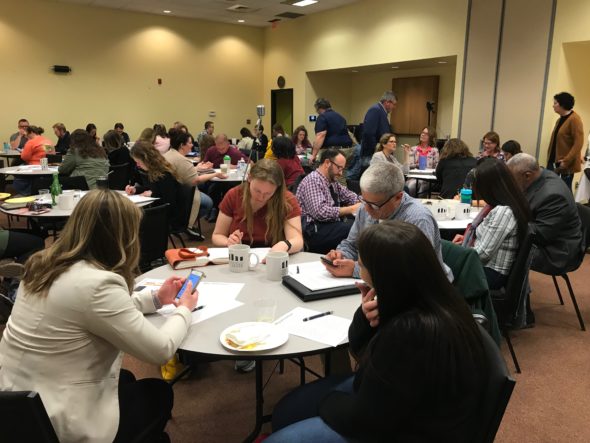 Quinn credits Sieb with the fundamental shift away from how-to instruction to topics of interest to all participants regardless of skill level.
Lauralee Hites, owner of Stratavize Consulting and a former member of the CCDC board, worked closely with Sieb to improve the content of RSM presentations in the early months of its reincarnation.
The group's growth "happened very organically," Hites said. "It's very much a community of people. We just built something we were passionate about."
Both women are excited about the ways RSM participants support and learn from one another.
"I'm proud of the culture that we've built," Sieb said.
She's also proud of not giving up when attendance would drop or a topic wouldn't resonate well. When a meeting drew a smaller crowd, brainstorming would begin on how to reach more people.
"We realized that consistency matters," she said. "The fight to always improve matters."
Hites has stepped back from active involvement with RSM, but remains supportive of the group.
For her part, Sieb continues as main facilitator for the group, but since last spring she has been joined by a committee of six. "The program is stronger, our team is stronger, the community is stronger because there's more people involved than just me," she said.
Though members of the committee work in marketing or small business development, Sieb stresses that they don't use RSM meetings to sell or advertise their own services.

"We are in this to talk about what really challenges small businesses in this community," she said. "It's never about closing deals or making sales for us. I know what that experience is like as an attendee and we have worked hard to prevent that from happening."
All committee members volunteer their time for RSM. There's no charge for meeting space, since the RSM program is owned by the Innovation Center. Locally owned Wayne Bank was the 2019 sponsor for the group, providing breakfast and taking care of other expenses as needed. That's how participants can network and learn new skills for free.
Sarah Featherston joined the staff at Wayne Bank in October 2018 as their "one-person marketing department." RSM has been an important part of adjusting to the job.
"I feel like I've gotten to know a ton of people in this community," she said.
Featherston appreciates the meeting topics, whether they remind her of skills she's been neglecting or they introduce her to something brand new. "Social media changes so quickly," she said.
At Sieb's urging, Featherston recently gave a presentation about a major local marketing campaign she put together, going through the steps of creating consistent branding for the bank not just on social media, but across all platforms. She said it is rewarding "to be seen as an expert."
But what she likes most about RSM is that "it makes you feel like you're not alone."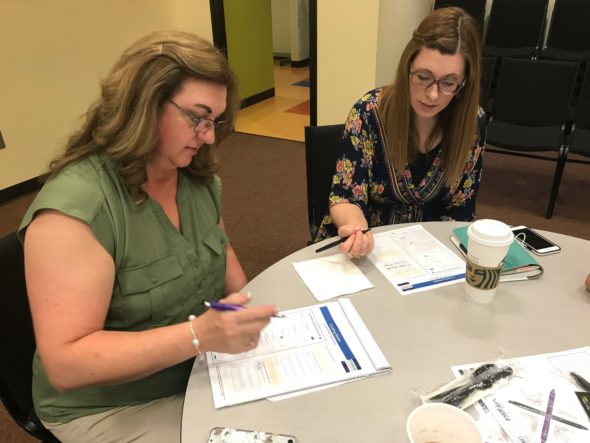 Quinn said that, with few exceptions, companies in Wayne County have only one marketing person – if they have a marketing department at all.
Tammy Ullery has found RSM an invaluable resource for her family business, Ullery's Old-Fashioned Ice Cream, which has a shop in Richmond as well as trucks that go to area festivals and fairs.
Owners like her, Ullery said, are responsible for every facet of the business – including marketing. "Running a small business is so complicated now," she said. "We have to stay aware."
RSM has helped her better understand both the potential and the pitfalls of social media. "It is very time-consuming but it can be very cost-effective. It's absolutely necessary."
Ullery attends regularly and sometimes takes staff with her. "I'm afraid to miss," she said. "They share every aspect of social media. The classes seem to be geared to what you need at that time."
That isn't by accident. The committee considers comments made during meeting discussions and written on the monthly evaluation forms to determine what topics should be covered next.
"It's nice to be aware of positive ideas, struggles, questions you never thought to ask," said Ullery. "It's good, helpful, common-sense information."
In 2020, RSM will continue to focus on topics of immediate use to its participants, but there will be changes to the format.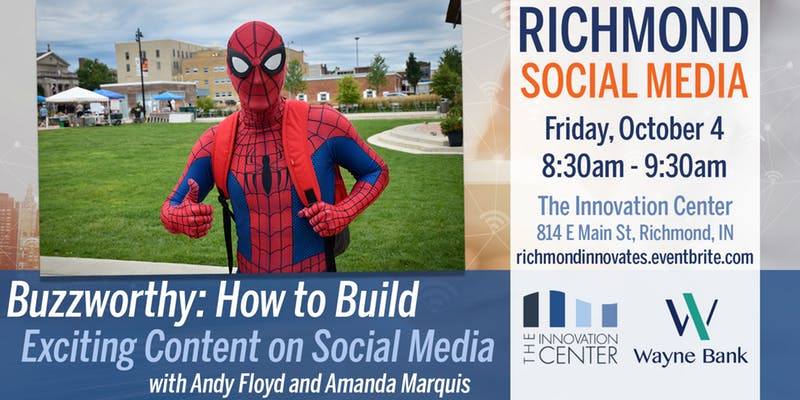 Instead of monthly gatherings, quarterly meetings are planned for March 18, June 17, September 16, and December 16, all the third Wednesday of their respective months. Meeting time will be 8:30 to 10 a.m., allowing more time for discussion. In addition, the group is looking to bring in speakers from outside of Richmond to bring new perspectives, and industry leaders to share what they've seen, learned, and experienced in the world of digital and social media marketing.
The current meeting time, 8:30 to 9:30 a.m. on the first Friday of each month, will be taken over by the East Indiana Small Business Development Center, so business owners can continue to benefit from information and advice on a monthly basis.
Both the RSM and the ISBDC meetings will take place at the Innovation Center.
Wayne County resident Peggy Cenova is regional director of the ISBDC office in Muncie. She praises Ullery for taking advantage of what RSM has to offer.
"Many business owners just haven't approached how to do (social media)," she said.
Both the information presented and the networking opportunity "can be a valuable use of their time," she added.
Sieb stresses that RSM isn't just for social media experts. "This is for everyone," she said.
To learn more about RSM, follow the group on Facebook at https://www.facebook.com/RichmondSocialMedia/.
For questions about the program and how you can get involved or support this community, email ashley.sieb@gmail.com.