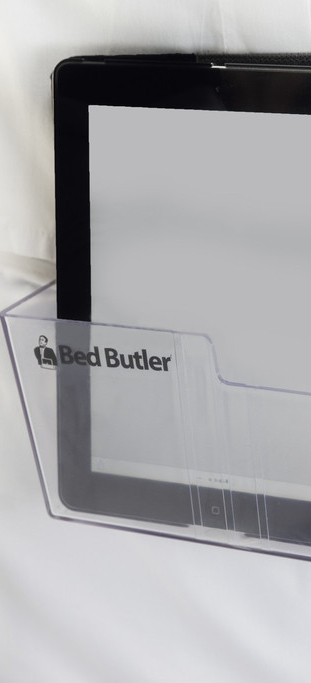 February 8, 2016
Entrepreneurship is alive and well in Wayne County
Greg Cramer tells the story with caring in his voice.
A woman called recently to place an order for a Bed Butler, a bedside caddy that Cramer designed while in college.
She told him how useful it would be for her in addition to the organization and protection it was designed for. "I am disabled and can't get out of bed," the caller told him.
Bed Butler worked perfectly for her to hold the things that were essential for her life: Certainly books, cellphones and a TV remote control. But, also pillboxes, medical supplies and much, much more.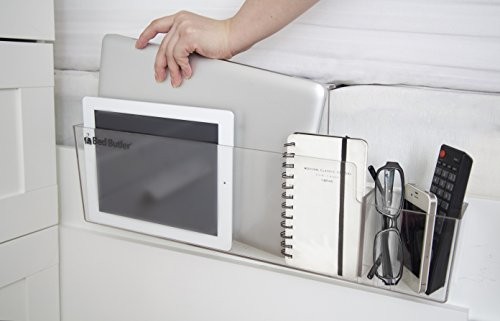 Cramer came up with the idea for the Bed Butler after nearly crushing a laptop as he stepped out of bed.
"That one call really touched me," Cramer says. "I helped create a product that was not a luxury, but a necessity. That makes me feel good."
The memory helps drive him as he works the long hours and pays the front-loaded costs for the startup company he owns along with Chris Kolger.
They have a lot to feel good about as their ideas, their dreams and their marketing skills are paying off with a product that's manufactured in their hometown. "I always wanted to have a business here, a footprint here that is positive for the community," says Kolger. "It's great to give back with jobs and to add some dollars to the economy."
The two versions of Bed Butler are assembled and shipped from a site on South J Street. The original bedside caddy was designed to keep mini-computers, tablets and cell phones within reach — and off the floor. It sells for about $20.
The bigger Bed Butler 2.0 can handle laptops up to 17 inches. It sells for $40 to $50.
A new version is in the research and development phase.
Thousands of the current versions have been sold through Amazon, Wayfair and other websites, and also on college campuses across the nation. Bed Butlers have been pitched on QVC and also are available on the cable television giant's website. They've also sold through a Groupon promotion and SkyMall.
"We have a great product and great customer service," Cramer boasts.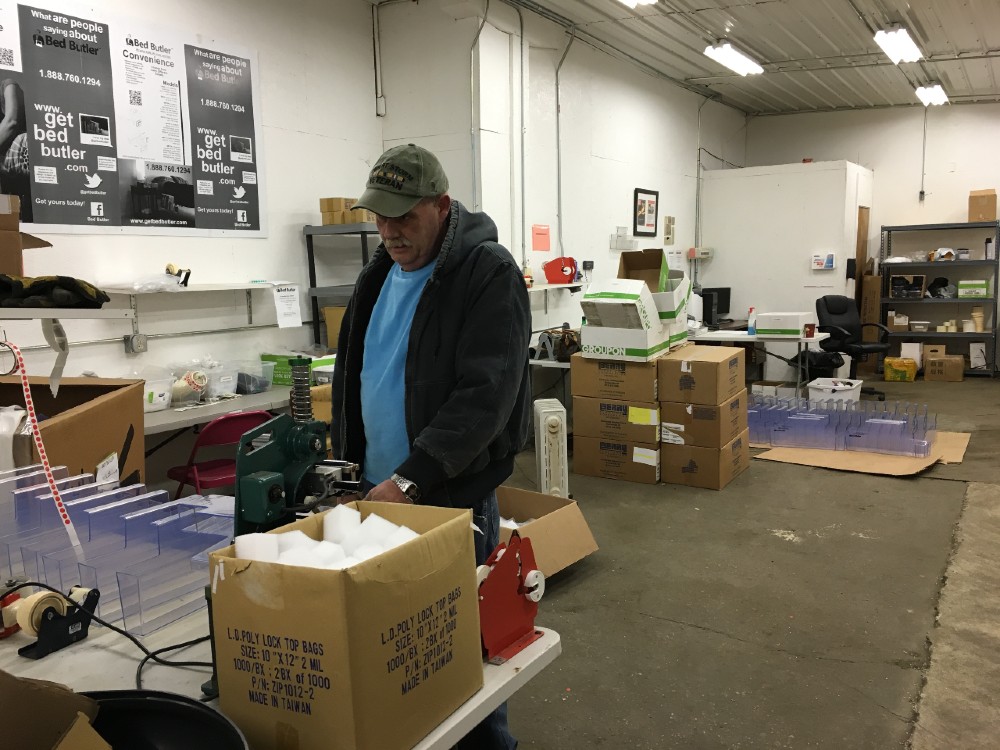 Three employees assemble the plastic units (the original prototype was made of wood). "Every day is better than the last," Cramer says. "We had a phenomenal December. We are actually seeing profits. That feels great."
Kolger echoes his partner about the growth: "We've at least doubled our sales each of the last two years."
The product has two main selling periods, he says: mid-November to Christmas and mid-May to mid-September.
The pair have created another economic benefit in their hometown. The parts are fabricated at Hagerstown Plastics in Richmond. In fact, they are neighbors in the 500 block of South J Street.
Valerie Shaffer, leader of the Economic Development Corporation of Wayne County, was essential in guiding Cramer and Kolger to owner Dave Wilson at Hagerstown Plastics. She also credits Keith Ulm of #1 Polymer Source and former City Councilman Phil Quinn for helping set up the connection.
"Valerie has been nothing but a great advocate," Kolger says. "We were just about to set up a contract with a factory in Indianapolis. She was able to get us a meeting the next day on a Saturday."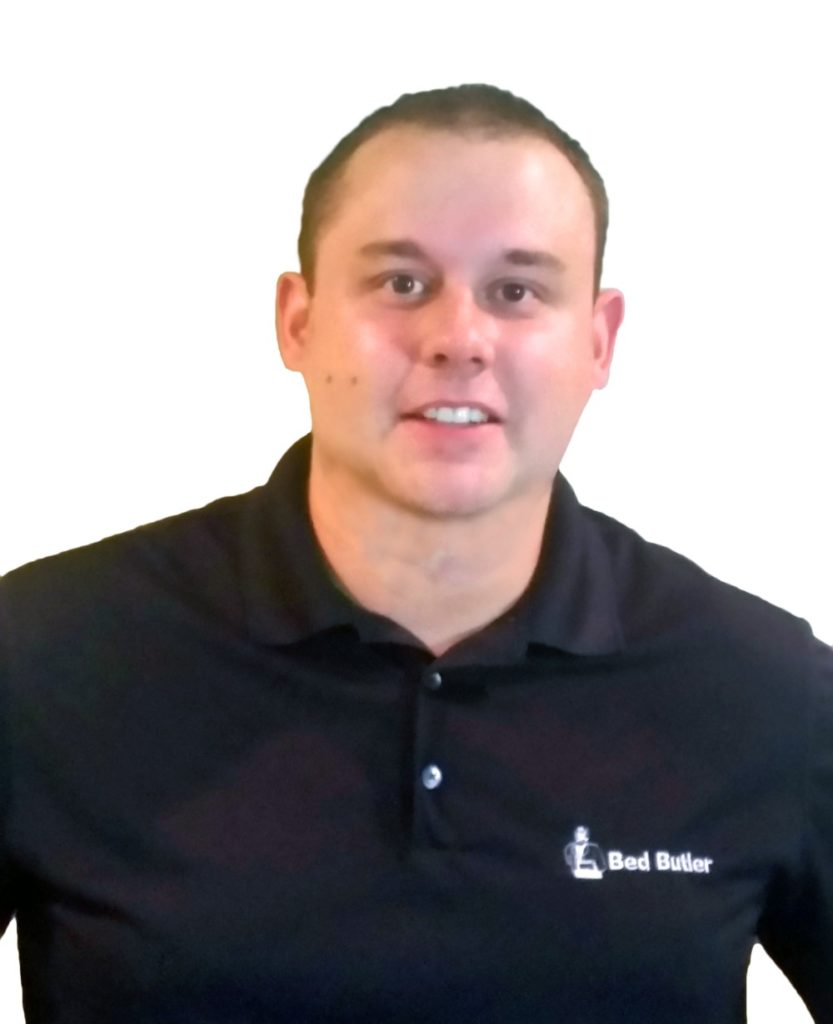 Cramer thinks of the connection as a stroke of good fortune. "We literally were a half-hour from committing to Indianapolis," he says.
From the start, it made sense to manufacture Bed Butlers in Indiana. "Thirty-three percent of all injection molding is done in Indiana," Cramer says. "Our best option was in Richmond. We're happy it turned out that way."
Most of the profits from Bed Butler have been directed back into the business: Neither owner draws a regular paycheck. They have other full-time jobs.
Kolger lives in Philadelphia, where he is a credit analyst and surety bond underwriter for Chubb Insurance, which recently purchased ACE. Kolger worked summers for ACE in Richmond while attending Indiana University.
Cramer lives in Muncie, where he attended Ball State University. He runs Premier AV Connections, a business that builds home entertainment and security systems.
He's often in Richmond to oversee assembly and shipping for Bed Butler — and to work on new design possibilities.
Bed Butler is a stepping stone, Cramer says, another stride on the ride to becoming a successful entrepreneur. He and Kolger always are considering their next manufacturing possibility.
A lot of work is needed to get to that stage. "I am telling you, it's hard out there," Cramer says. "People approach us with ideas all of the time. Everyone has ideas. It's the person who focuses on it, who works at it, that succeeds."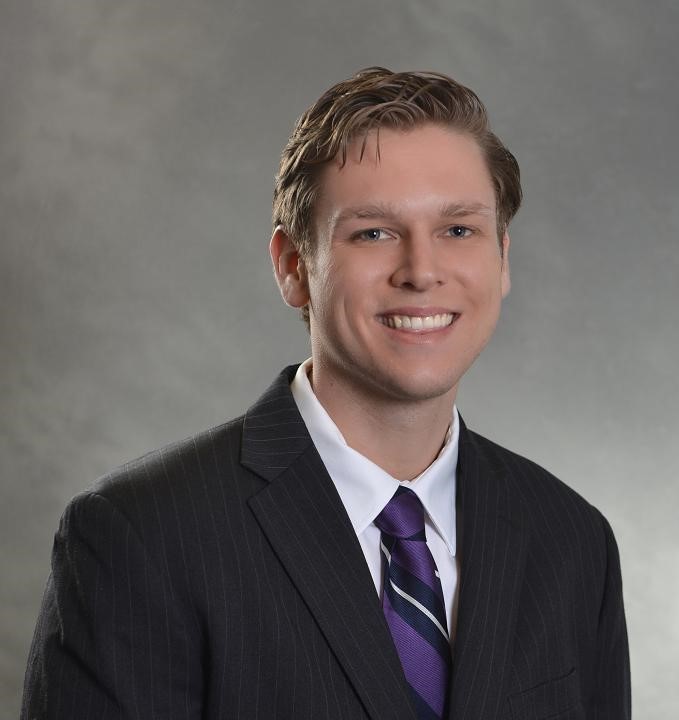 Success is something the partners have been dreaming about since they started selling products on eBay when they were about 13 years old and in the seventh grade at Seton Catholic Schools. "We built computers and sold them online," Kolger explains. "I was hooked then. I wanted to own my own business."
Cramer had been hooked on capitalism long before that. He remembers going around the Primex plant as a child and selling items to employees while visiting with his father there. "I always tried to make money," he says.
He was always willing to work hard and try different avenues toward success. He sold shoeshines to family members. He ran a lawn care company before he could drive. He's owned a cigar company, a website forum, and a shipping business.
Cramer and Kolger have more in common than being 26-year-old business partners and Richmond High School graduates. They both have one sibling — sisters named Chelsea — and their parents were very encouraging while growing up in Richmond.
But, they do have a yin-and-yang thing going in several respects. "I am more about putting things together and he (Kolger) is more on the business side," Cramer says with a laugh. "Chris says pretty much, 'do this' and it's unrealistic. But, it gets done."
Cramer says he always has to be fixing something or thinking of better ways to get something done. He sweats the small stuff, while Kolger considers the big picture more from an analytical sense.
In that sense, Kolger says he works daily on planning and targeting accounts, while also setting targets of production and shipping.
He and Cramer constantly bounce ideas and what-ifs off of each other.
"We are always looking for the next business," Kolger says, "always exploring some different manufacturing options."
Cramer promises to deliver more soon: "We have a lot of things in the pipeline."