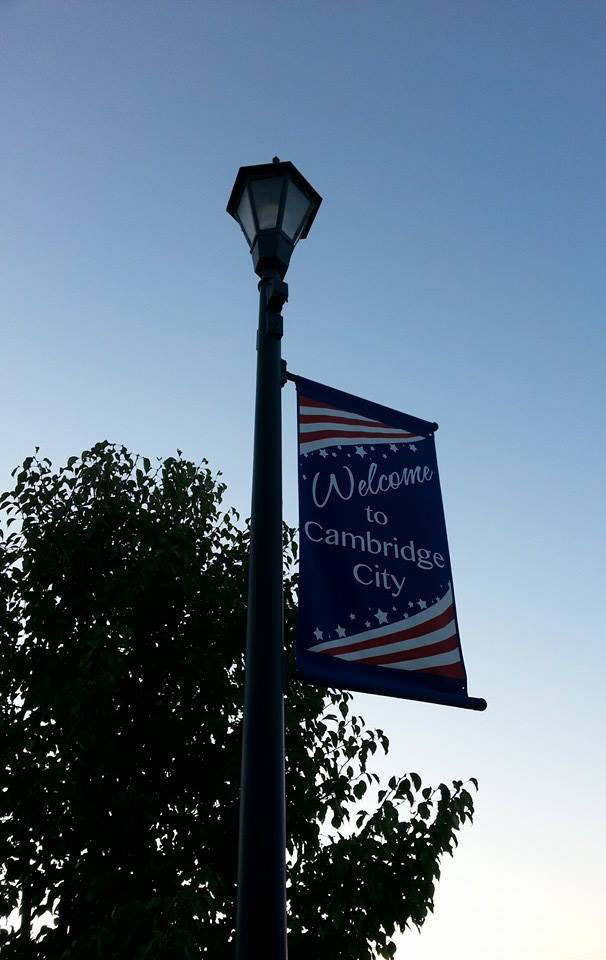 December 22, 2015
Cambridge City grows with mix of old and new
Becky Cole thought she'd put brown paper over the windows as work began last summer on the new restaurant she recently opened in Cambridge City along with her husband, Ron.
But, that never happened for one major reason: Residents kept stopping by and looking in as Cole's Dining & Spirits took shape.
They couldn't wait for it to open.
"Everybody was so nice, wanted to see what was going on every step of the way," she says. "Everybody has been so welcoming, so helpful and warm."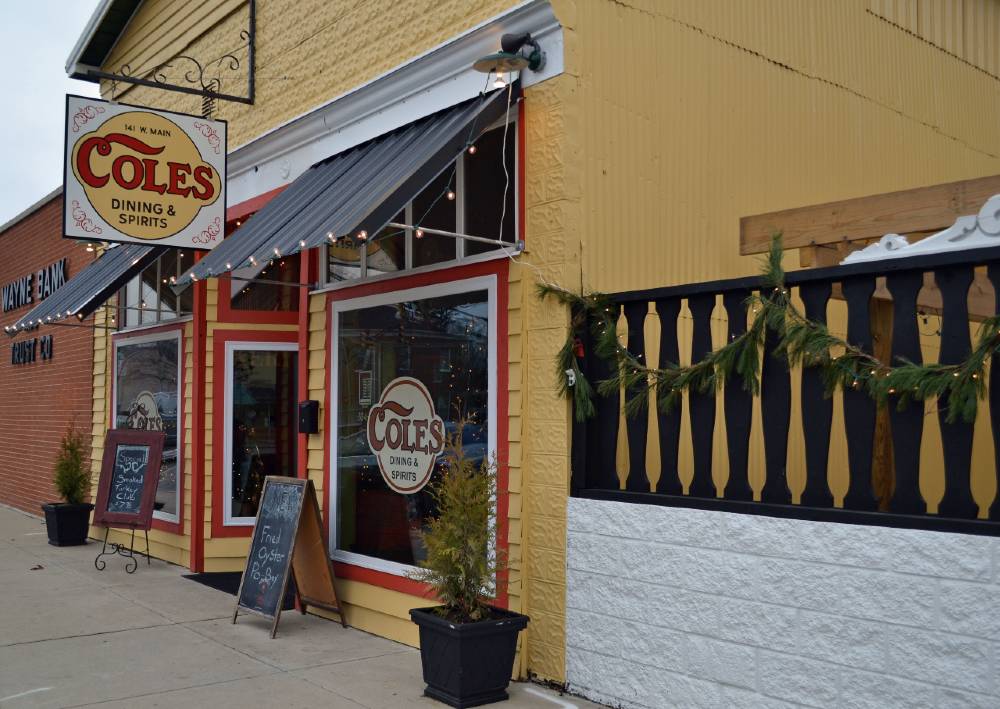 Those attributes are on display every day in this town that features a mile-long Main Street that's filled with popular restaurants, antique shops, banks and other small-town businesses. Collectively, they all belie the town's population of just over 1,800.
This town is a destination spot where its history has become a major ingredient in tourism, economic development and quality of life.
Nowhere is that more evident than the bustling new library and attached Overbeck Museum of pottery art. Their move from an 80-year-old brick building to the west side of town opened up space for a bustling new meeting spot called The Archive.
"We try to make sure there never is an empty building," explains Beth Leisure, who opened The Archive along with her husband, Rick. The building at 33 W. Main Street sits just east of their National Road Antique Mall.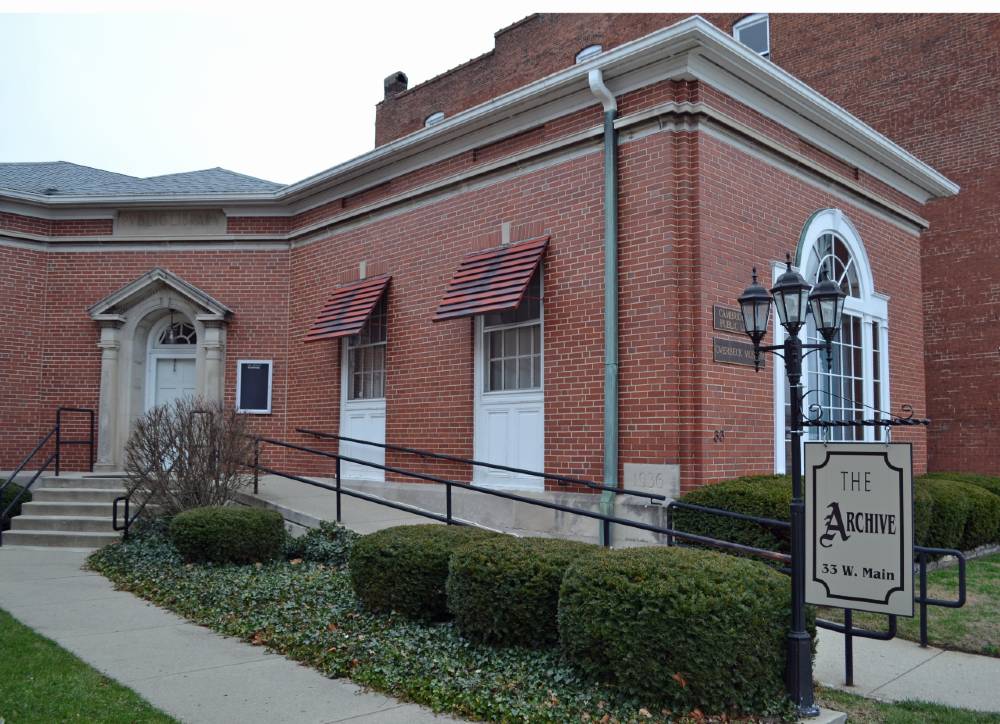 They started that successful antique business in 1998 when "there wasn't much left" in town, says Beth Leisure.
It was a leap of faith. "We didn't know what we were doing," Rick says with a laugh. "It just blossomed."
The Archive has blossomed, too, after the Leisures discovered "the right fit" after remodeling it, Beth says. It's constantly booked with parties, receptions and reunions. Add in business meetings, dinners and other community functions, too.
"It's got its own personality," she says. "People here remember the library as a child and now they can share in big life moments here."
DOT Foods often rents The Archive for training activities for its new drivers, who are given a week of training, says Jennifer Moistner, human resources coordinator at DOT. "It's been a great location for us," Moistner says. "It has worked out perfectly."
Wayne Bank & Trust, which was founded in 1882 in Cambridge City, uses The Archive for staff events and community functions.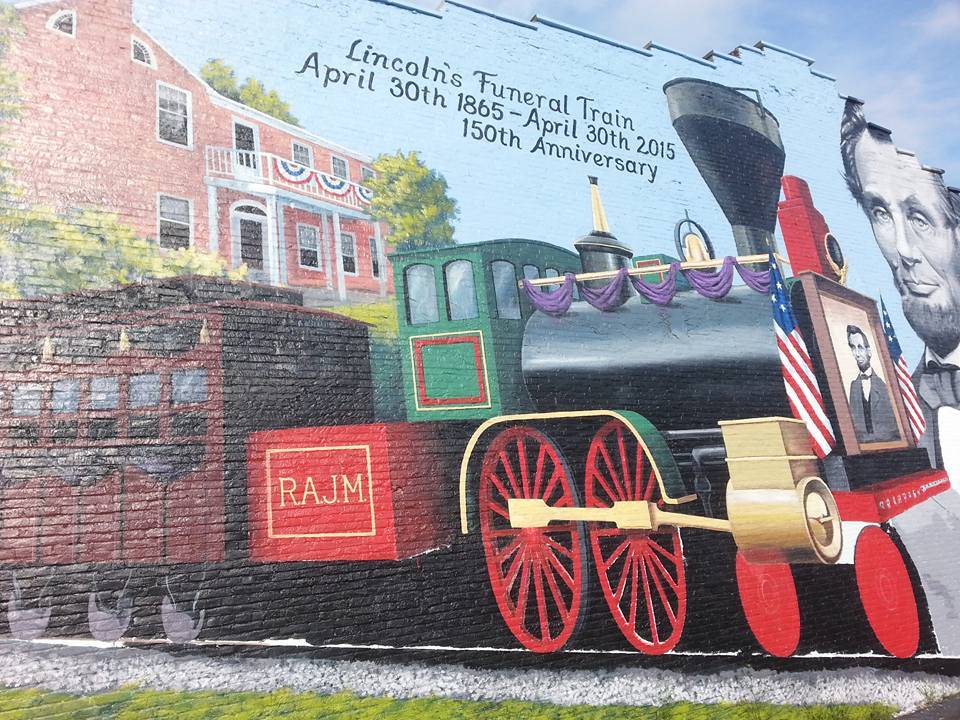 Beth Leisure often leads meetings and discussions there as president of the Cambridge City Chamber of Commerce.
She also helped start the preservation organization Cambridge City Main Street.
"Economic development is exciting," she says. "The town, the Chamber and the businesses work together.
The Leisures have a large imprint on the town in other ways: Rick runs a HVAC service and they also own a laundromat and car wash.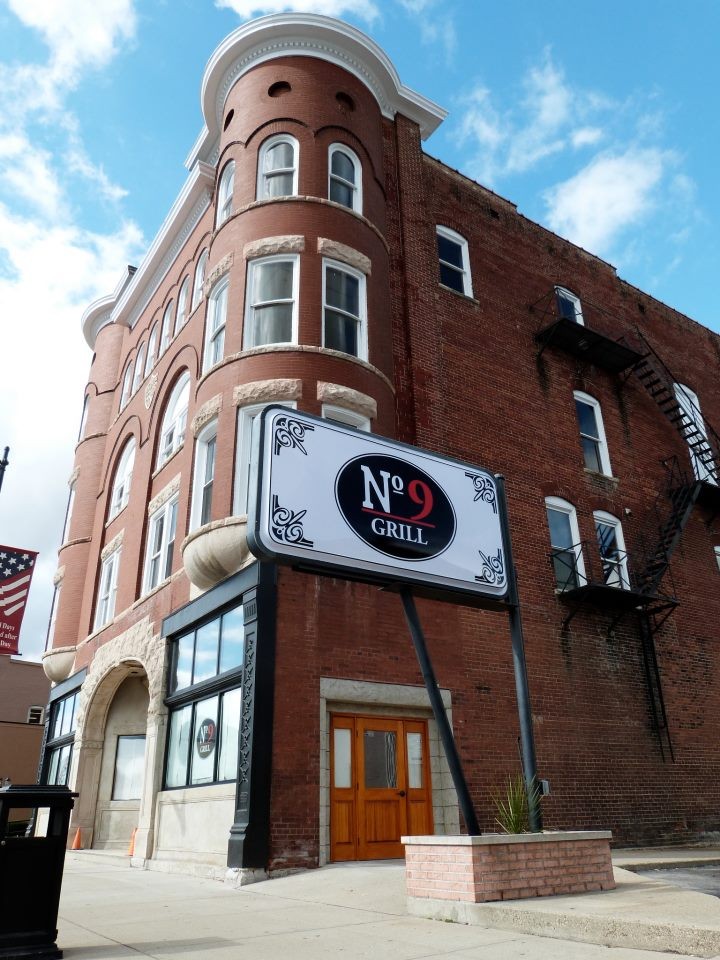 She is an upbeat driving force in helping the town move forward. "She has done a lot herself to revitalize the community," says Moistner, who is a native of Cambridge City.
That revitalization is obvious with new murals on buildings and new restaurants such as Cole's and the constantly busy No. 9 Grill, which draws diners from around the region. It was opened several years ago by the Fortman family.
Like Cole's, it is bright and contemporary, with a good range of popular items on their menus, including steaks, sandwiches and pastas. They both feature complete bars.
Cambridge City has many other popular restaurants and places to find sweet treats.
They include local gathering spots Lumpy's and Lakeview restaurants. They include Hilltop Drive-In, Main Street Sweets and CC's Finest Candies.
And Pizza 3.14 and El Cazador Mexican Restaurant.
Add in chain restaurants such as Subway and Little King Pizza and there are about one restaurant for every 200 people on the stretch of Old National Road (Main Street) through Cambridge City.
That means the town is economically dependent on repeat visitors from around the region. The stores and restaurants have to deliver great experiences to succeed long term.
A recent reviewer on the website Yelp has this to say about that regional appeal with No. 9 Grill: "Wonderful EVERY time we go! GREAT menu, food, service. The restaurant is (a) perfect setting for folks to meet — locals, young, old, travelers. We live 40+ miles out and will make (the) drive any day. … We HIGHLY recommend."
Cambridge City has also earned a reputation as a national destination for being an "antique alley."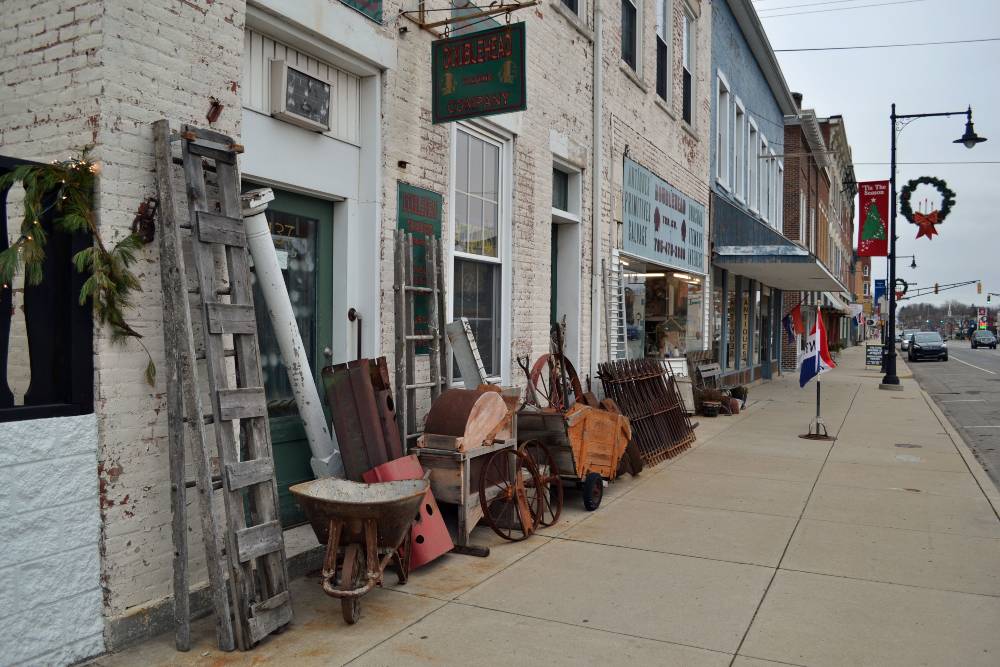 There are about 10 antique stores alone filling older buildings along Main Street. They feature an array of fun and descriptive names: Building 125, Dusty Rusty Stuff, Doublehead Trading Co., Hole in the Wall, The Log House, The Vintage Market, and Yesterday's.
The Wayne County Convention and Tourism Bureau includes them and more on visitor trails.
Economic development in manufacturing has served as a boon for Cambridge City in the last decade. DOT Foods has nearly 250 employees and Taconic Biosciences has 50 at its site in the Gateway Industrial Park at the intersection of Interstate 70 and Indiana Highway 1, about three miles from downtown Cambridge City.
Sugar Creek Packing Company just started production there, with promises of up to 400 jobs over the next several years.
Beth Leisure believes Cambridge City has to join more in development efforts. "This is a small town and we're never going to be a big town," she says. "But, we can expand. I see expanding downtown one or two more blocks. We need more variety in stores to complement what's here. We need new housing and we need families to move in."
She envisions development that would put the old schoolhouse to use that sits along Main Street: "The possibilities for the property are wide open and I would like to see things there to increase the quality of place for Cambridge City."
Another strong need, Leisure says, is a motel at I-70 and Highway 1. "As a destination, we need lodging."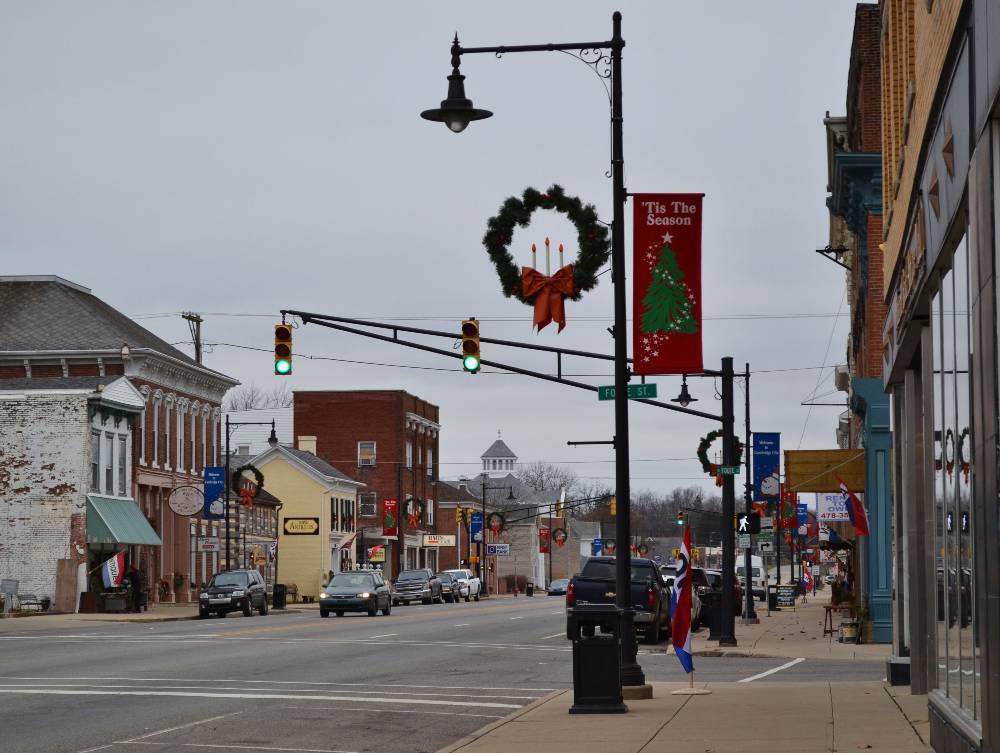 Cambridge City certainly met the needs of the Coles, who still run Stone Hearth Cafe in the Warm Glow Candle Company along Interstate 70.
"We needed a kitchen because our dessert business has really grown," Ron Cole says. "This was already equipped. It already had the frontage."
It also had a bar and a good amount of seating for a restaurant.
He and Becky brought along a strong word of mouth about culinary quality garnered from Stone Hearth and their former restaurant, Palais Royal Cafe in Centerville.
"That takes a long time to build," Becky says. "We had a head start. We contacted former customers. That's been a great advantage."
So has been the response of Cambridge City residents, she says. "They have really embraced us. That makes it so much better. We love being here."