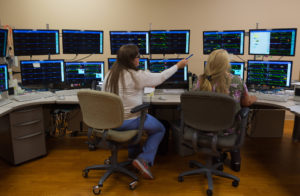 May 8, 2019
Parallax Systems connects Richmond area with region, nation, and world
By Louise Ronald
Nearly 20 years ago, Richmond, Indiana, embarked on a venture unusual for a town of its size.
Richmond Power & Light, a city-owned utility, had an electric grid serving roughly 40,000 citizens in their homes and work places. From the early 1980s, RP&L had been installing fiber optic cable to connect its substations.
So forward-thinking minds posed a question: Would it be possible to piggyback on that infrastructure to deliver internet access to the town as well?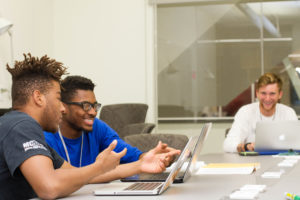 It was possible, and the result was Parallax Systems, founded in 2000.
At that time, no one was really serving any kind of high bandwidth in the area, said RP&L General Manager Randy Baker. Because the utility is regulated by the Indiana Utilities Regulatory Commission and no other utility in the state had tried investing in broadband, the concept had to be approved by the Commission, and care was taken to make sure that Parallax was not being subsidized by local ratepayers.
Instead, the new venture was created with a loan from the utility.
Now, Parallax is so heavily present in the community that reaching a new business is a matter of laying a few hundred yards of cable – not two or three miles as in the early days. According to Manager Rich Cody, Parallax now serves more than 300 businesses in and around Richmond.
What is more, those customers have proven very loyal.
"They don't leave," Cody said. "Retention is phenomenal."
A case in point is Reid Health, a network with its main hospital campus in Richmond and more than 40 other offices and buildings in Wayne and surrounding counties – 26 of which are connected through Parallax and its partnerships with the Indiana Fiber Network and beyond.
Tim Love, Director of Information Services, admits Reid was a little leery of going with Parallax when it first started, but soon realized the advantages of dealing with a local company.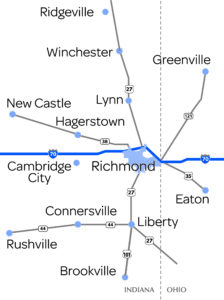 "If we have an issue, we can call Parallax and the person answering the phone will help us," Love said. "They know our network."
As Reid has expanded, Parallax has stayed on top of their needs. "They'll do all they can to meet our timelines," said Love.
Reid's connectivity makes it easier for doctors to keep tabs on their patients, unhindered by time limitations or physical distance. For patients, it means access to the latest technologies, Love said.
"I feel good about what we do," said Cody. "We've built a viable community stronghold."
Richmond Community Schools also are linked by Parallax Systems.
"It's very important for Richmond schools to have that local contact for customer service," said Chief Operations Officer Rob Tidrow. "If there's an issue, we're within minutes of a possible solution."
Regional or national internet services have little reason to respond to the special needs of local customers, Cody said. "Why adapt to what Richmond wants you to adapt to?"
Tidrow said the situation is very different with Parallax, where employees are likely to have a personal connection with the schools – either as graduates themselves or through having children, grandchildren, or other kids they know being students there.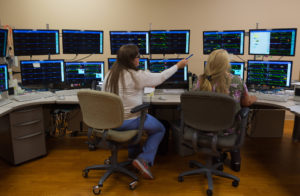 "I think it goes back to just that personal connection," he said. "It's a win-win for all of us."
This kind of win has become an important factor in economic development.
When Parallax was founded, high-speed, broadband internet access was ninth or tenth on a company's wish list, Cody said. Now, it's third, fourth, or even higher.
"I'm very big on Parallax because it's a strategic asset for our community," said Ray Ontko, principal of Doxpop in Richmond, a web-based information service that provides access to court cases and other public records. "I think it's important not only for technology businesses, but for any business."
Any company with more than ten employees, Ontko said, "needs a reliable internet connection for almost anything it's doing."
At a public meeting of the RP&L board of directors last summer, Dr. Roberto Gallardo, Assistant Director of the Purdue Center for Regional Development, likened the establishment of Parallax to building roads and laying railroad tracks in Richmond's earlier history.
It's that fundamental to growth, he told the board.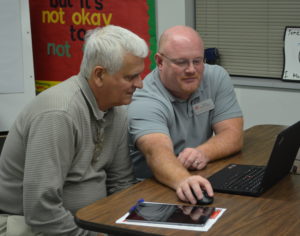 "While research is still up in the air on what exactly will unfold in this still very young digital age, one thing is certain: not having broadband will leave you out for sure," Gallardo said. "Parallax Systems plays a critical role in ensuring there is connectivity for businesses to take a slice of the rapidly expanding digital economy."
Not surprisingly, Cody and Parallax are among those at the table when companies considering establishing or relocating a facility come for a site visit. Economic Development Corporation of Wayne County President, Valerie Shaffer said it makes a difference that Cody and Parallax are local.
"We know that we have a decision-maker in front of us," she said, crediting the broadband provider with helping to attract and/or retain several area businesses.
Brendan Post, Chief Information Officer and Director of Information Technology at Earlham College, said it was "a pleasant surprise" to discover the ease of connectivity when he joined the college several months ago.
Parallax provides the "last mile" to connect Earlham to the Indiana Research Network, a vital service to students and faculty. Post appreciates dealing with a local partner when issues arise. "They know their customer," he said.
Earlham also uses Parallax to communicate across its campus and with some of its off-campus facilities. It's that dual link – within and without – that ties this relatively small community with the region and the world.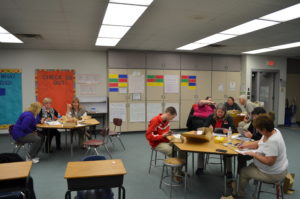 "I don't know how businesses connected before," said Al Fullerton, Senior Vice President/Chief Information Officer and Information Security Officer at First Bank Richmond. Fullerton called Parallax, the bank's primary internet service provider, "an essential part of our daily operations."
"Everybody's got their last mile," he said, referring to businesses in the area. It's Parallax that bridges that mile. "That's something that not a lot of communities have," said Fullerton.
He speculates it would have taken the Indiana Fiber Network years to build out to areas like Wayne County. August Zehner, IFN Vice President of Sales and Marketing, admits that is the case. "We're just starting in rural areas," he told the RP&L board at last summer's meeting.
Both Fullerton and Zehner say that the decision to form Parallax completely changed the timetable for Richmond/Wayne County's digital development.
"We've been enjoying the benefits of being connected to Parallax for years," Fullerton said.
Gallardo's roads and railroads not only linked local residents to one another, they also linked the area to the region and beyond.
Digital connections are doing the same.
If Parallax represents the "last mile" and IFN is (as Zehner puts it) the "middle mile," companies like Zayo Group cover the final distance.
"We've put together networks to tie Richmond … to the rest of the world," John Knauss, leader of Indiana business development for Zayo Group told the board. "We've worked with a lot of entities much like Parallax," Knauss said. It "… allows Richmond to be a significant player."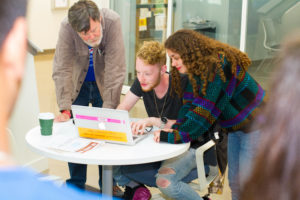 Perhaps the best example of this worldwide connectivity is Belden Inc. Belden's products "… include, but are not limited to, electronic cable, fiber, wireless, switches, firewalls, network cabinets, cyber security solutions and audio/video production solutions," according to a letter Director of Infrastructure Charles Crawford sent to the RP&L board for last summer's meeting.
The company has more than 100 locations around the world, and its global data center is located in Richmond, just down the road from Parallax and RP&L.
The center is one of Parallax's biggest clients.
"Over 7,000 users globally depend on critical systems that are hosted in the Richmond data center," Crawford wrote. "No other local provider has been able to match what Parallax provides for us in terms of redundancy and support."
"Broadband is the life blood of communities these days," Knauss told the RP&L board.
Thanks in large part to Parallax, that life blood flows freely in and around Richmond, Indiana.