September 6, 2017
EDC joins new life in long-vacant historic building
Back in the day, it was one of the hubs of Richmond.
The former Pennsylvania Railroad Depot was designed by nationally-known architect Daniel Burnham. From 1902, it was where countless families, college students, people traveling on business or vacation, and even U.S. presidents came on their way to or from Richmond.
The decline of passenger rail service led to the depot's closure in the early 1970s, and the handsome structure stood vacant for decades.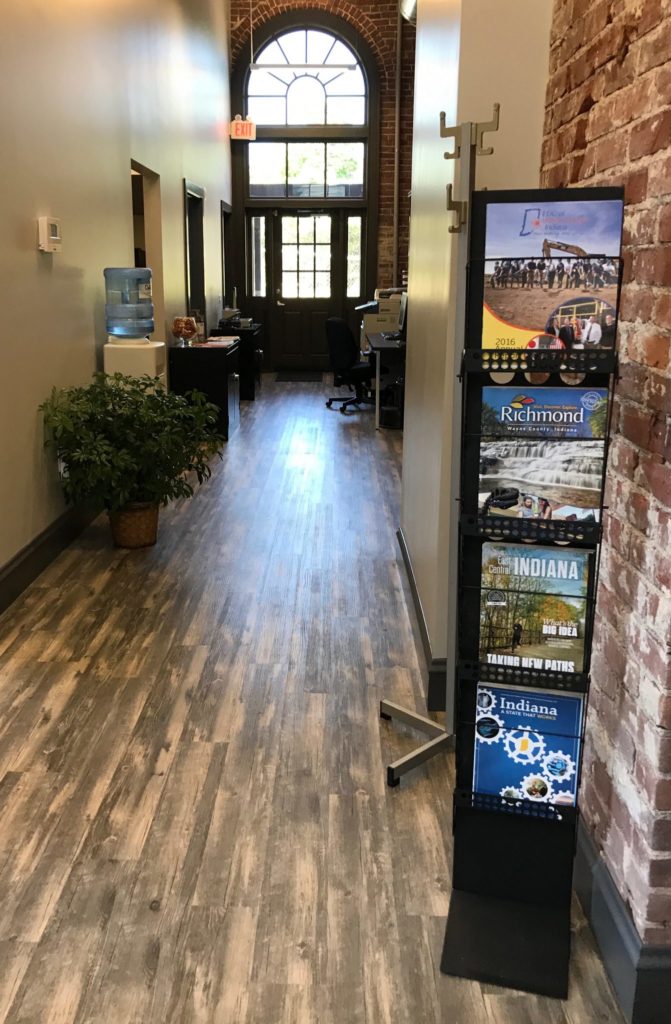 Until now.
In July 2016, the building was purchased by Better Homes and Gardens First Realty Group and work began on reconfiguring the interior for the group's own offices and two rental spaces.
Their first tenant? The Economic Development Corporation of Wayne County.
In fact, the EDC moved in before First Realty Group's offices were ready – work that is scheduled to be completed very soon.
First Realty Group Vice President and Partner Mark Brunton Jr. appreciates having the EDC in the former depot. "It's a vote of confidence," he said, for his group's vision for the historic building.
Brunton is quick to admit that First Realty Group is just one of many businesses, non-profit agencies and government offices that have made the depot's revitalization possible. "It was a team effort," he said.
Among the members of that "team" are Roger and Theresa Richert, owners of the nearby Richmond Furniture Gallery, who purchased the deteriorating structure and shored it up, making essential repairs to the exterior before selling to First Realty Group.
"Now to see it finally come to fruition, it gives me goosebumps," said Roger Richert, who credits wife Theresa with the decision to buy the depot. "I can't believe how nice it is."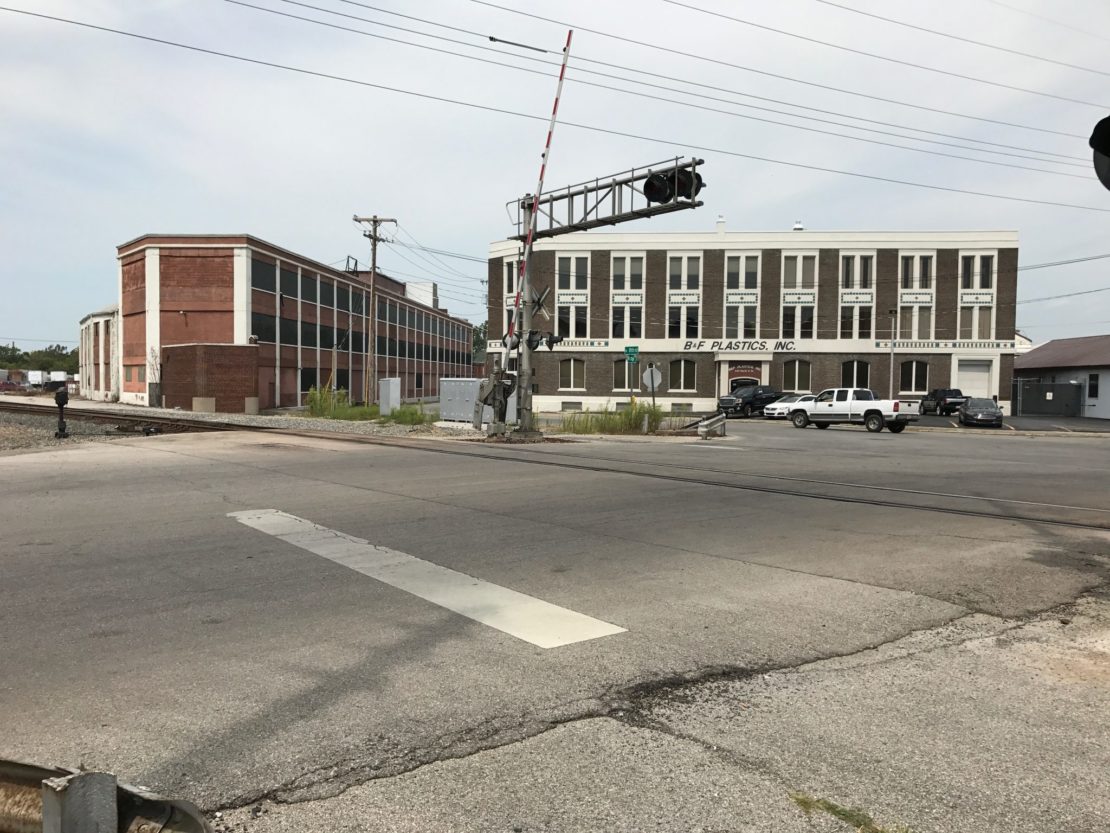 The Richerts expanded their business to the depot area in 2005, across the street from Little Sheba's restaurant, founded in 1990. Steve Terzini purchased Little Sheba's in 2002. At that time, he said, there was "hardly anything else" in the formerly bustling retail, office and warehouse area south of the train station, though industries to the north still flourished.
It was not, Terzini said, an inviting neighborhood. The restaurant did a good business at lunchtime, but people were hesitant to come after dark.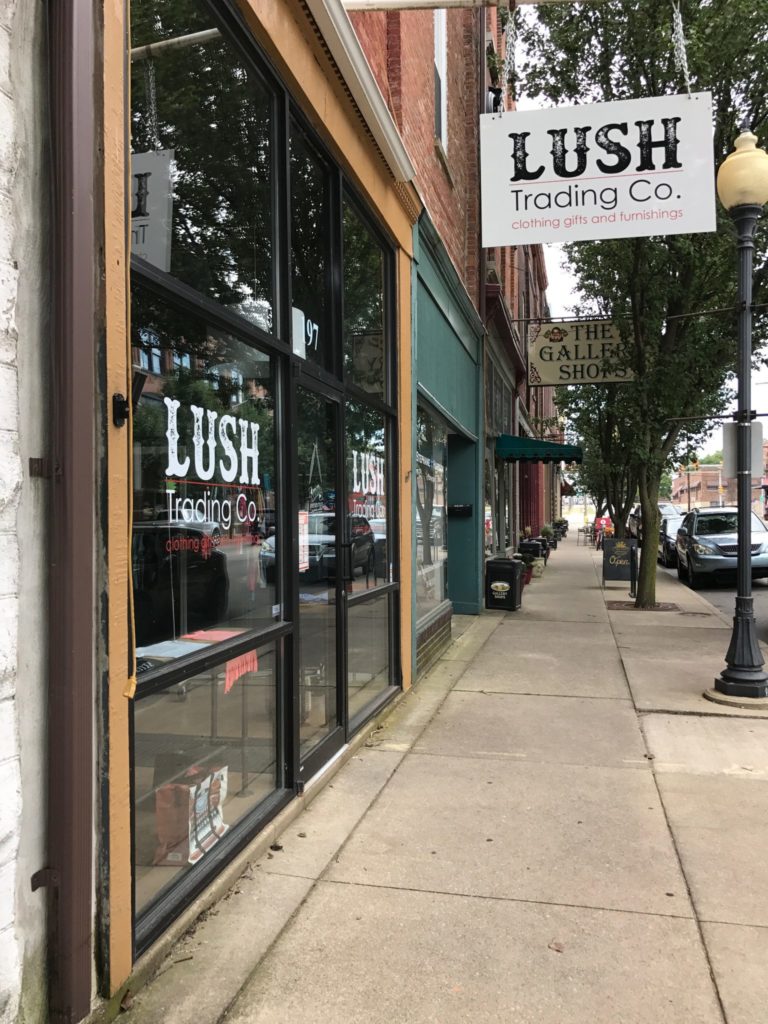 "Everything was boarded up," Richert said.
So they and other businesses began improvement efforts. A merchant organization began for the designated Historic Deport District. Festivals – including an Old-Fashioned Christmas Festival every Tuesday evening in December – helped draw people to the neighborhood. Vacant buildings began to fill.
But the depot itself – though looking significantly better – remained empty.
"We can't have a depot area without a depot," said Terzini.
That's why he and his neighbors are excited to have the EDC and (soon) First Realty Group move in. So excited, they're planning a party.
Depot Fest 17 is set for September 9.
"It's a once-in-a-lifetime event celebrating getting the depot back to life," said Rick Parker, owner of Parker Industrial Supplies directly south of the station.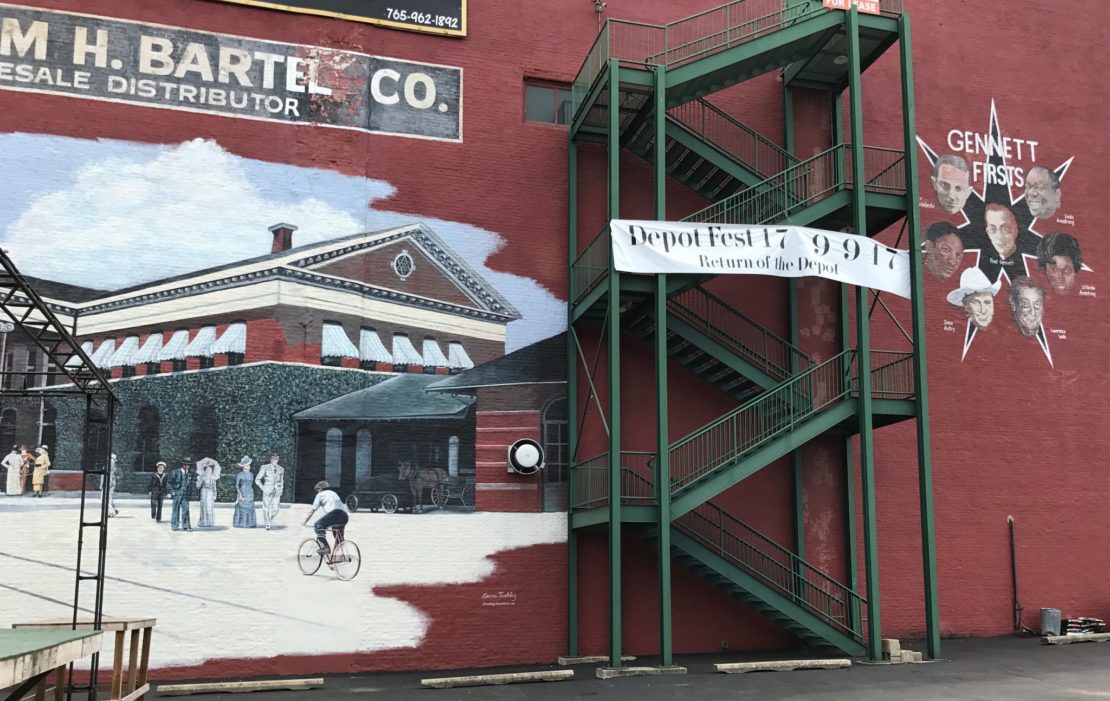 One of Parker's businesses in the building is the 4th Floor Blues Club, which hosts an InConcert series to benefit 16 local non-profit organizations. Depot Fest is expected to be InConcert's biggest event ever.
Free afternoon activities will include tours of the new depot offices, historian-led walks through the district, vendors selling food and other products, performances, face painting, kids' games, trackless train rides, speeches and a ribbon-cutting ceremony. There will be Lemonade Day tasting and business contests in preparation for the upcoming annual Wayne County event, which encourages entrepreneurship and philanthropy for young people through planning, building, managing and donating some of the proceeds from lemonade stands.
At 5 p.m., the gates will open for an outdoor concert featuring Backdraft, The Indigos, and Jennie DeVoe. Tickets are $20 in advance and $25 at the gate for anyone 12 or older. Thanks to B&F Plastics and other sponsors, all proceeds will go to InConcert's list of non-profits.
President Valerie Shaffer looks forward to welcoming more visitors to the EDC's new location.
For 24 years, the EDC was housed on the second floor of Wayne Bank and Trust's Waytru Plaza in downtown Richmond. The space was comfortable and convenient, but not very visible to the public. Shaffer said it has made a "huge impact" to have the EDC – which is, after all, funded by taxpayer dollars – at street level.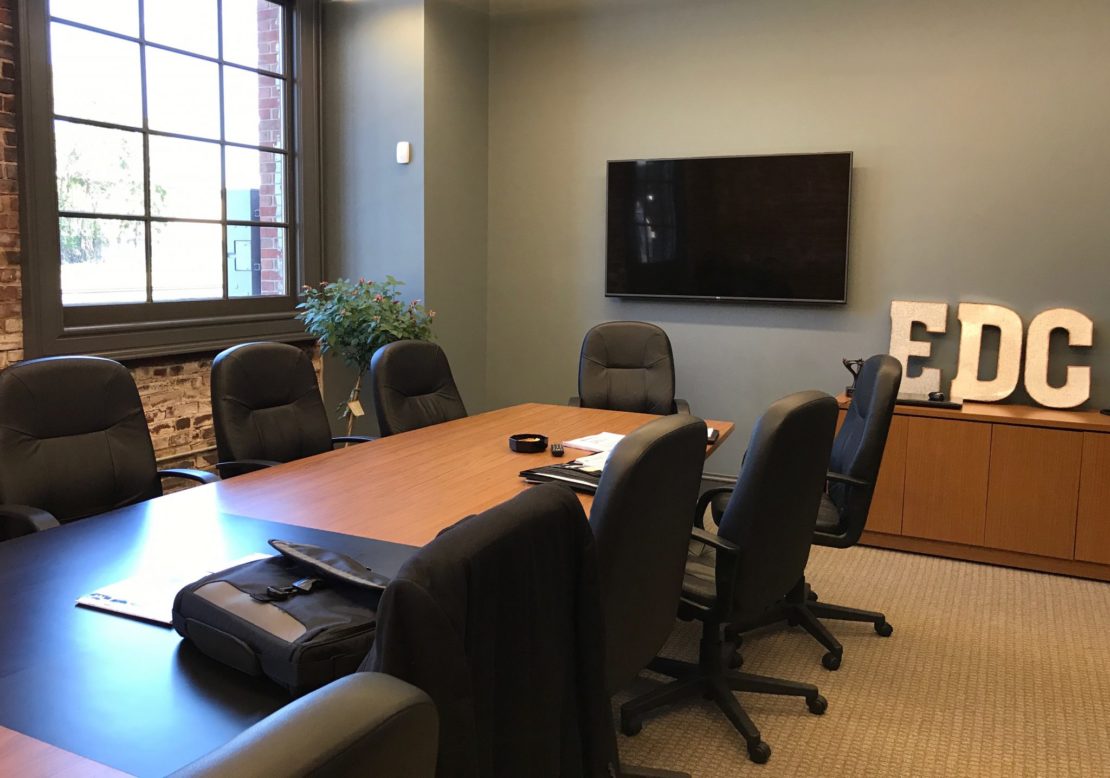 "We're more connected to the community," she said. In the few weeks since the move, a number of people have dropped in to say hello and look around.
Shaffer is excited about being part of the revitalization of the district and said that's in keeping with the role of the EDC.
"We're very much on trend down here," she said, noting the economic diversity of the neighborhood, with industry and offices as well as specialty shops and places to eat and relax.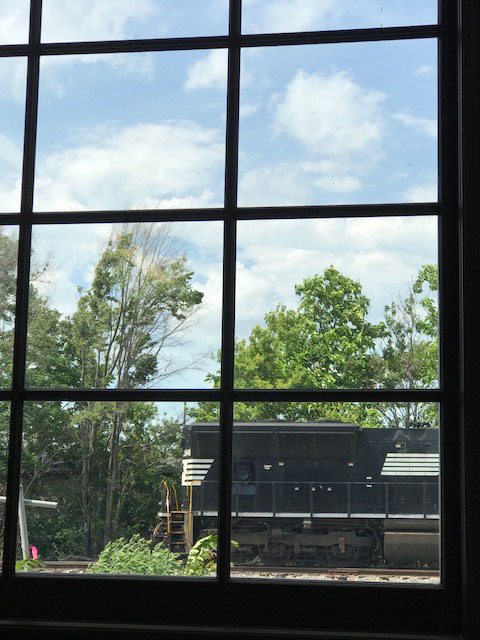 And trains. Passenger service might be a thing of the past, but freight trains run through frequently. "Rail is still part of business and industry and a huge infrastructure need for many companies," said Shaffer.
Parker calls the depot the "perfect place" for the EDC. After bringing in new or expanding current industry, "the second-best way to bring in money from outside is to create attractive neighborhoods," he said. Having the depot occupied again "gives us something unique. There's nothing else like that building … anywhere close."
One of the first visitors to the EDC's office was Amber Mills, owner of Leaning Lily, a florist and gift shop in the district. She brought a plant to welcome Shaffer and her staff.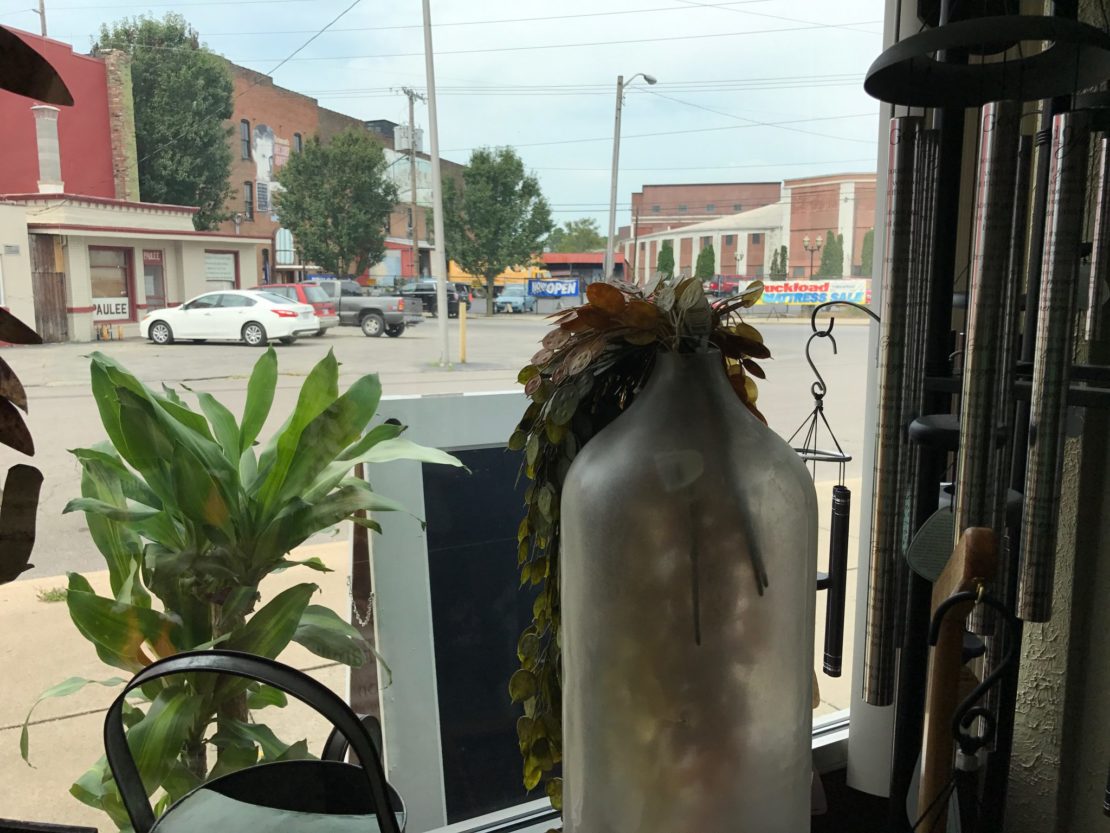 Mills likes the neighborhood. "It seems like everyone pitches in," she said. "Everyone watches out for everyone."
Dick Butler, who opened Grandpa's Garage with his wife, Linda, on Aug. 18, agrees. "Everybody's so enthusiastic," he said.
And no one is more enthusiastic than Brunton, who calls himself lucky to have been able to help provide a spark to reinvigorate the neighborhood.
First Realty Group, Brunton said, had outgrown its buildings on South 10th Street. The second floor of the depot doesn't have more square footage, but it is – or soon will be – a space better suited to the needs of their realtors, developers and clients.
Visitors will be able to see that space for themselves on Sept. 9. They also will see what Brunton calls the "grand hall" – the station's former waiting room, which will be a shared space for First Realty Group, the EDC and whoever moves into the 6,000-square foot space still available for rent.
Brunton puts it simply. After more than 40 years, he said, the depot "is alive again."
He positively radiates pride about First Realty Group being able to put the finishing touches on the depot project, to help recreate a Richmond hub.
"It was really an honor for us to bring this thing home," said Brunton.
Learn more
About Depot Fest 17 by visiting www.InConcertRichmond.com.
About in rental space in the depot by emailing Mark@BruntonTeam.com.